Ravioli is a popular Italian dish consisting of small pasta parcels containing a delicious filling. Traditionally, ravioli are filled with a combination of ricotta, meat, cheese and vegetables, but there are endless possibilities as to what you can make ravioli filling out of!
To demonstrate this, we've put together this article outlining some of our favourite ravioli filling ideas for you to try your hand at making. Alternatively, you can come on down to one of our authentic Italian restaurants in Milton Keynes to sample our delicious truffle and mushroom ravioli, which is made from scratch with fresh ingredients each day!
Delicious Ravioli Filling Ideas You Need To Try
These tasty ravioli filling ideas are simple to make and sure to please a crowd, whether you decide to make them for your family or guests at a dinner party. If you are in need of a pasta dough recipe to turn your ravioli fillings into ravioli, check out our previous article for ten easy homemade pasta recipes, including recipes that are suitable for those who are vegan, vegetarian and gluten-free.
If you're a lover of Italian food, from pizza to pasta and more, why not pay us a visit at one of our restaurants in Milton Keynes? Our menu is full of delicious Italian dishes that can be tailored to accommodate all dietary requirements. Please do not hesitate to give us a call if you'd like to book a table or have any questions!
Ravioli Filling Ideas:
Ravioli Making Tips:
Why Not Sign Up to Our Newsletter?
Receive exclusive discounts, deals, tips and more!
This one is for the chicken-lovers! Hearty, herby and delicious, making this chicken ravioli filling is an excellent way to put leftover chicken meat from Sunday's roast to good use. You can make it by chopping up your cooked chicken and combining it with mashed potato, freshly chopped chives, parmesan cheese, and oyster sauce before dividing the filling between your ravioli parcels. This dish is delicious when served with homemade chive butter and a sprinkling of parmesan cheese – enjoy!
If you're a fan of seafood, you've got to try this prawn ravioli filling recipe! It's simple to make and packed with flavour, thanks to the many fresh and fragrant ingredients it calls for. All you'll need to do is combine prawns with tomato puree, olive oil, lemon juice, egg, chopped onion and garlic, and several delicious herbs and seasonings before thoroughly mixing all of your ingredients together. Next, the filling is divided and wrapped in thin sheets of pasta dough, which are shaped into parcels.
If you're searching for crab ravioli filling ideas, look no further than this simple and tasty recipe. All you will need is a whole crab and some black pepper – the meat will be naturally salty, so there is no need to add any extra salt. Simply boil the crab before removing both the white and dark meat. If you're at all unsure of the best way to do this, head over to Great British Chefs for a guide to the best method and tools to use. Mix the meat together with a dash of ground black pepper, and your filling will be ready.
This deliciously creamy cheese ravioli filling uses fresh ricotta cheese, which you can either buy from a supermarket or have a go at making yourself! If you do want to try your hand at whipping up your very own fresh ricotta, check out this simple recipe on She Loves Biscotti. To make your ravioli filling, you will combine your ricotta with a grated hard Italian cheese, seasoning, and plenty of freshly chopped parsley and basil. The result is creamy, fragrant, earthy and truly delicious.
This vegetarian ravioli filling recipe combining blanched spinach, dried herbs, grated cheese and chilli flakes is sure to satisfy. Fragrant and tasty with a little kick from the chilli, it can be used to create the perfect ravioli parcels to serve in a creamy tomato sauce with grated cheese and fresh basil to garnish. This dish is ideal for serving at a dinner party with guests: it's delicious, filling, and will enable you to show off your culinary skills with minimal effort!
Why not come on down to our restaurant in Newport Pagnell or one of our other locations to give our vegetarian mushroom and truffle ravioli a go? It's truly delicious, we promise!
Whether you're vegan, vegetarian, egg-free, lactose-free, or are simply trying your hand at plant-based cooking, this delicious vegan ravioli filling will not disappoint! Made with spinach, tofu, seasoning and vegan mozzarella, the filling is packed into ravioli parcels, which are cooked and topped with a mouth-watering garlic butter sage sauce. This dish is perfect for the whole family: it's delicious, nutritious, and kid-friendly!
When it comes to making ravioli, there's nothing more frustrating than a filling that's too runny! Thankfully, there are several things that you can do to thicken up your ravioli filling to avoid difficult-to-fill and leaky parcels:
Stick it in the fridge – put your ravioli filling in a bowl and cover it with a plate. After a couple of hours, your filling will firm up and make for a far easier time when filling your pasta.
Use a cheesecloth – place your filling in the centre of a cheesecloth or clean dishtowel before gathering the edges and twisting them together to create a small bundle. Place the bundle in a colander in the sink and put something heavy on top of it. This will strain out excess liquid and leave you with a nice, thick filling!
Add breadcrumbs – by adding breadcrumbs to your filling, you will make it thicker since the crumbs will soak up excess moisture. This is also a good way to bulk out your batch of ravioli filling a little, should you discover that you have not quite made enough!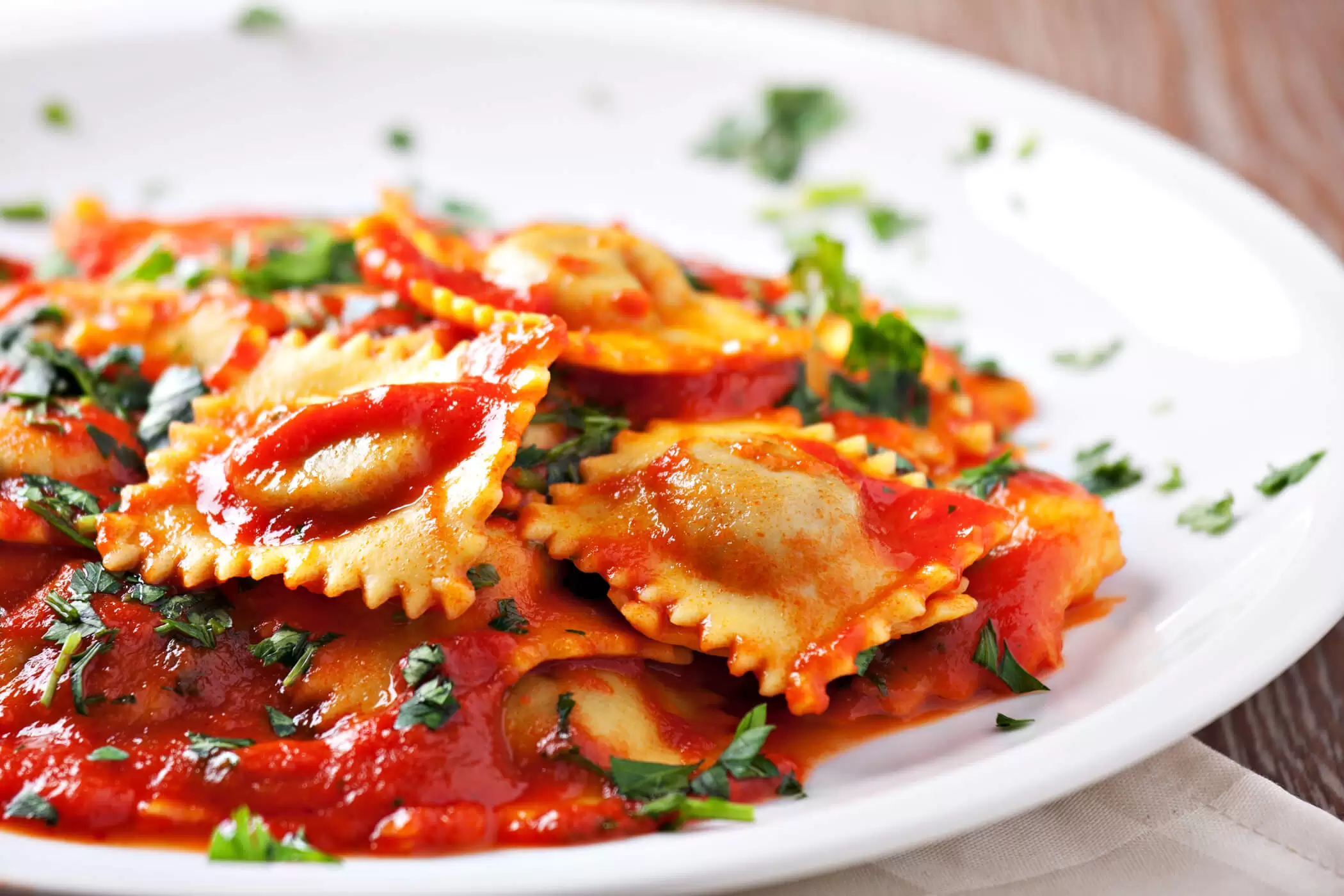 Leftover ravioli filling is nothing to stress about – better too much than too little, right? Besides, you can put your leftover filling to good use, so don't worry about creating food waste! Here are a few things you can do with leftover ravioli filling:
Use it as a pasta sauce – naturally, your ravioli filling will pair perfectly with pasta, no matter the shape! Try serving it on top of spaghetti or linguine, or even using it to stuff pasta shells.
Use it as a dip – why not enjoy your leftover ravioli filling as a thick dip for your favourite kind of bread, crisps, or fries? This way, you can fully appreciate the flavours of your concoction whilst making an easy lunch option for yourself!
Can you freeze ravioli filling? – absolutely! You can freeze ravioli filling in its own in a heavy-duty Ziploc bag, an airtight, freezer-safe Tupperware, or as part of fully constructed ravioli pieces, so long as they aren't cooked. Simply thaw your ravioli filling in the fridge overnight when you want to use it again! It should be noted that fillings containing watery vegetables such as spinach won't freeze as well as others.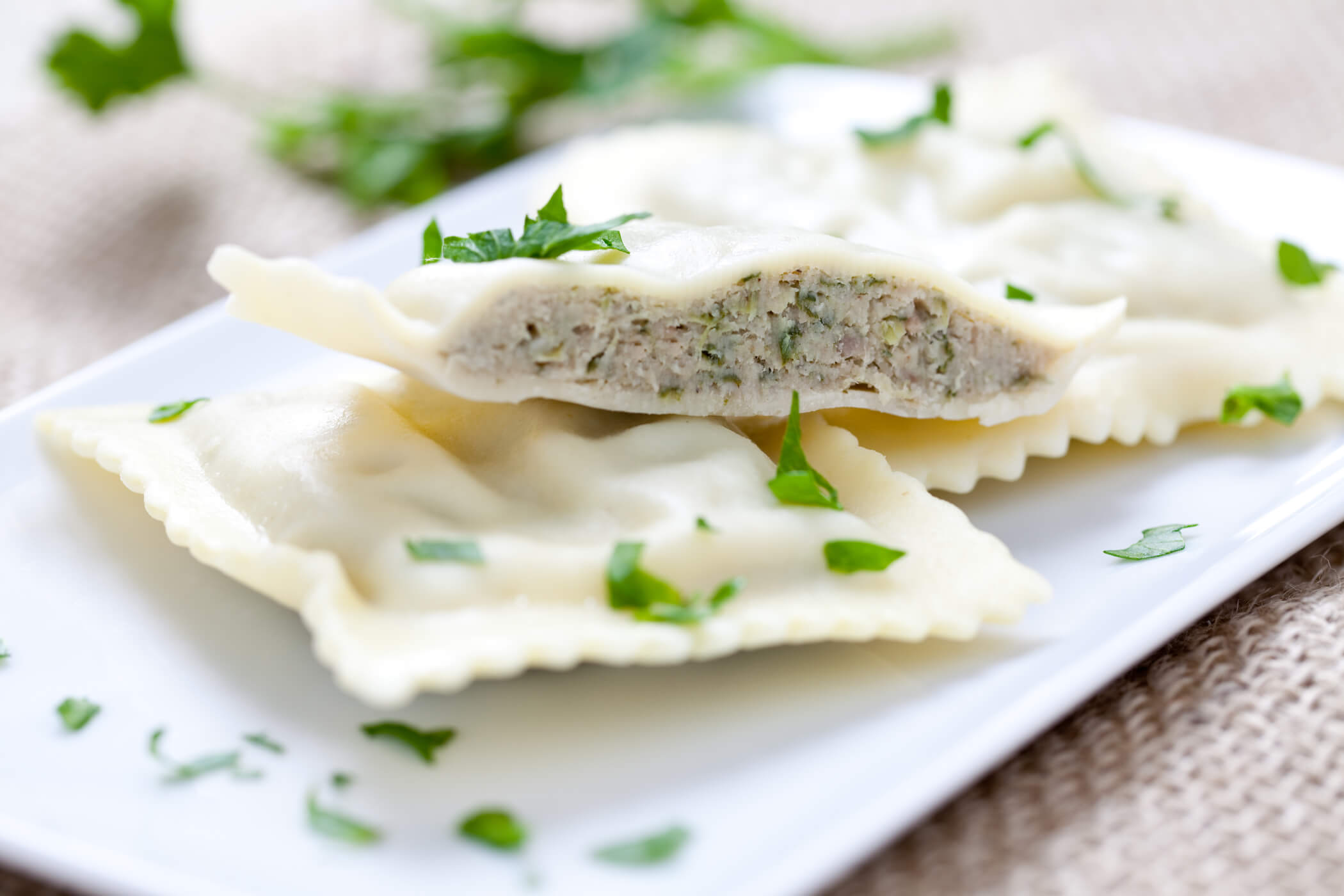 These delicious ravioli filling recipes are all well and good, but how do you fill ravioli? There are actually several ways in which you can do this, which you can check out below:
Use a ravioli cutter – a ravioli cutter can be used to divide your rolled-out pasta dough into squares or circles, which you can dollop filling onto before sandwiching together or folding over to make the perfect parcels.
Use a ravioli mould – ravioli mould trays could not be simpler to use: you simply lay a sheet of pasta dough over them, pop your filling into each well, and place another pasta sheet over the top. You will then roll over the tray with a rolling pin, and voila!
Make tortellini – while not technically ravioli, tortellini can be made using the same pasta dough and filling, and are perfect for those looking for a little challenge! You can find out how to fill tortellini over on Pasta Evangelists.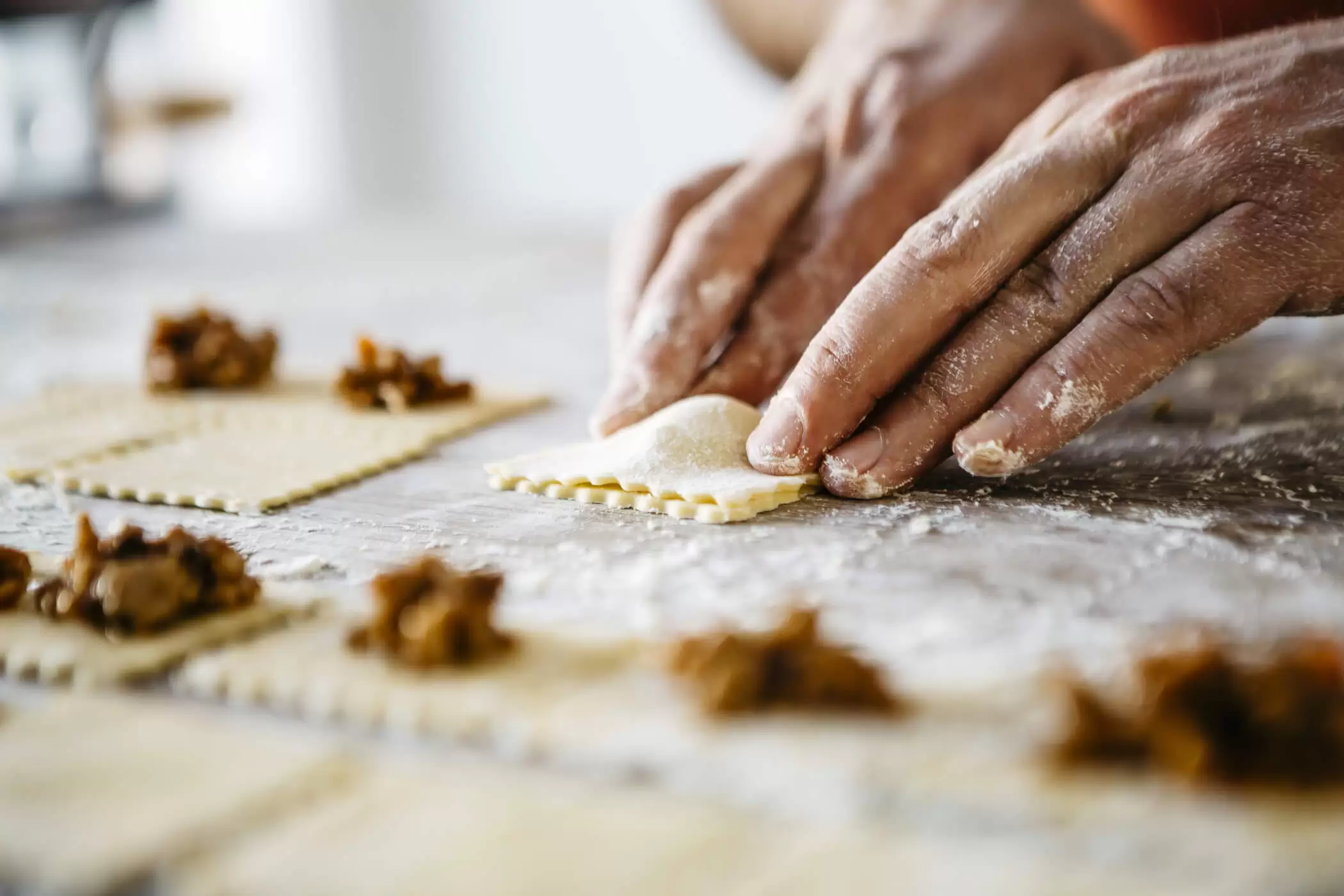 Simple Ravioli Filling Recipes
Ravioli is a truly delicious dish that can and should be enjoyed by all, regardless of age or dietary requirements. We hope that our ravioli filling ideas have provided you with plenty of inspiration for your next culinary concoction! However, if you'd rather leave the ravioli-making to the professionals, why not pay us a visit at Murati's? Our restaurants in Daventry and the surrounding areas offer a tastebud-tantalising array of menu options that you simply must try! Feel free to get in touch with us if you have any questions or would like to book a table. We hope to see you soon!
Ready To Taste The Flavours Of Italy?
Leave your details below to get in touch with our friendly team.