Italy is known for its deliciously decadent, indulgent desserts, whether it be rich, creamy tiramisu or the silky, melt-in-the-mouth panna cotta. But did you know that these tasty traditional Italian desserts couldn't be easier to make from the comfort of your home? So, why not impress your guests at your next dinner party by showcasing your culinary skills with these 11 fabulous dessert ideas?
Must-Try Traditional Italian Desserts
At Murati's Pizzeria, we must admit – we find it impossible to turn down a traditional Italian dessert. At our restaurants in Milton Keynes, our skilled chefs handmake a host of mouth-wateringly good treats, perfect for satisfying your sweet tooth – you absolutely must pop down to try one (or two!). Or, if you're craving a tasty dessert while cosying down for the night at home, don't forget we're also available as a takeaway in Milton Keynes!
So, now you're in the loop with how to get your fix of traditional Italian goodness, let's take a closer look at our favourite desserts:
Ready For More Tasty Italian Food?
Sign up for our newsletter for exclusive offers and more!
As one of the world's most-loved desserts, tiramisu dates all the way back to 1800. First introduced in Treviso, tiramisu translates to "pick-me-up", and we can most definitely see why!
Combining mascarpone cheese, cream, coffee-soaked ladyfingers, a layer of dark cocoa powder and a splash of liquor, this rich dessert offers the perfect blend of sweetness with a touch of bitterness. Its light, creamy and melt-in-the-mouth texture makes tiramisu a scrumptious after-dinner treat.
Tiramisu is undoubtedly one of the most popular desserts at our restaurants in Milton Keynes, and ours has a little twist. Infused with Amaretto and Baileys liqueur, our take on tiramisu is impossible to turn down.
These sweet Sicilian fried pastries are a heavenly choice, offering a wonderful combination of textures thanks to the crunch of the shell and the smoothness of the cream. The main ingredients behind a cannoli are similar to a tiramisu, yet with the addition of sweetened ricotta cheese and either a pistachio or chocolate chip filling.
Cannoli was initially introduced as a treat during Carnevale, an Italian festival to celebrate, eat and drink before Lent begins. Now, it is widely enjoyed across the globe all year round – it's even been mentioned in films! If you're a fan of 1972's The Godfather, you'll be familiar with the memorable quote, "Leave the gun. Take the cannoli."
Simple but beautifully tasty, panna cotta (meaning 'cooked cream' ) consists of only sweetened cream and gelatine, making it a super easy traditional dessert to recreate from home!
As the perfect summer dessert, panna cotta is refreshing and sweet with a melt-in-your-mouth texture. It is wonderfully versatile and can be topped with the flavours of your choice; some of the most popular include coffee, lavender, berries, and chocolate.
The secret to the perfect panna cotta is to avoid too much gelatine, as this will make the texture too stiff rather than the jelly-like consistency we all know and love!
Translating to 'half-frozen', semifreddo has a unique but delightful texture brimming with flavour. Although cold and frozen, semifreddo stays creamy and soft, similar to ice cream but better described as a frozen mousse. It is traditionally moulded in a loaf tin and then sliced, making it a light yet mouth-watering dessert, perfect when hosting guests.
Much like panna cotta, semifreddo can be effortlessly tailored to your tastebuds. From classic fruit and nut combinations to chocolate, coffee and even peanut butter varieties, you most definitely won't be short on flavour inspiration. We love the recipes over on Yummly!
A creamy gelato drenched in espresso, traditional affogato is a quick and easy yet deliciously indulgent treat guaranteed to impress your guests. As the warmth of the coffee begins to mix with the smooth richness of the gelato, you are left with a glorious blend of sweet and bitter.
To recreate the classic affogato, simply scoop the gelato of your choice (vanilla is always our top pick!) into serving glasses, then top with a freshly brewed espresso. You could even top your dessert with a sprinkle of milk chocolate for an extra sweet touch!
If you want to leave the dessert-making to the experts, why not pop into one of our restaurants in Milton Keynes to enjoy our delicious affogato?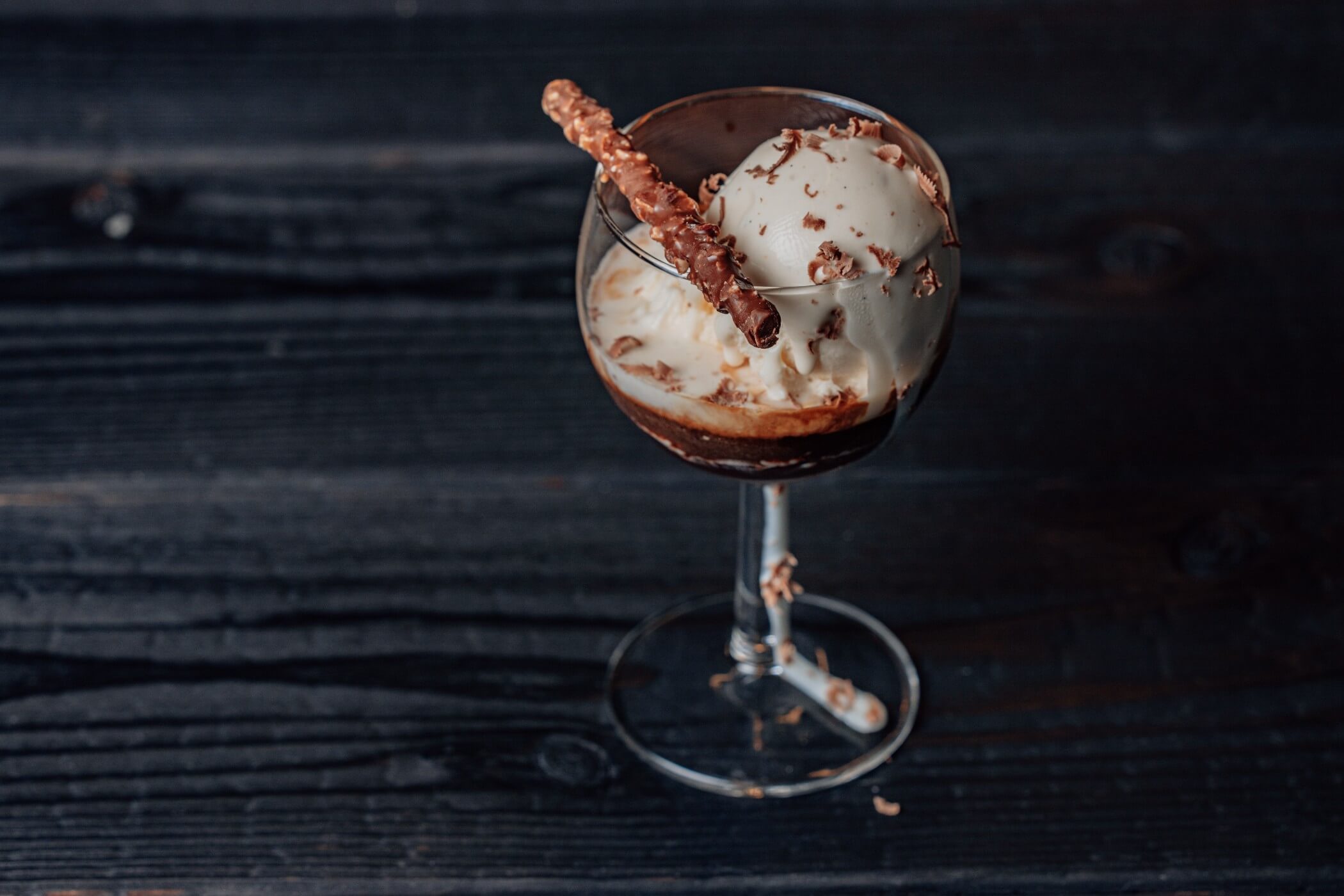 Although apple strudel originates from Austria, did you know it's also a widely loved dessert in Italy? Most popular in Trentino-Alto Adige, a region known for producing the highest quality apples in Europe, Italian apple strudel is a hearty, warming dessert perfect for an autumnal evening.
Featuring cinnamon-spiced cooked apples and liqueur or brandy-soaked raisins wrapped in light puff pastry, apple strudel has a gorgeously rich flavour. Often served with either fresh or ice cream, you absolutely must try making an apple strudel from home – check out this traditional recipe by La Bella Vita Cucina to get started!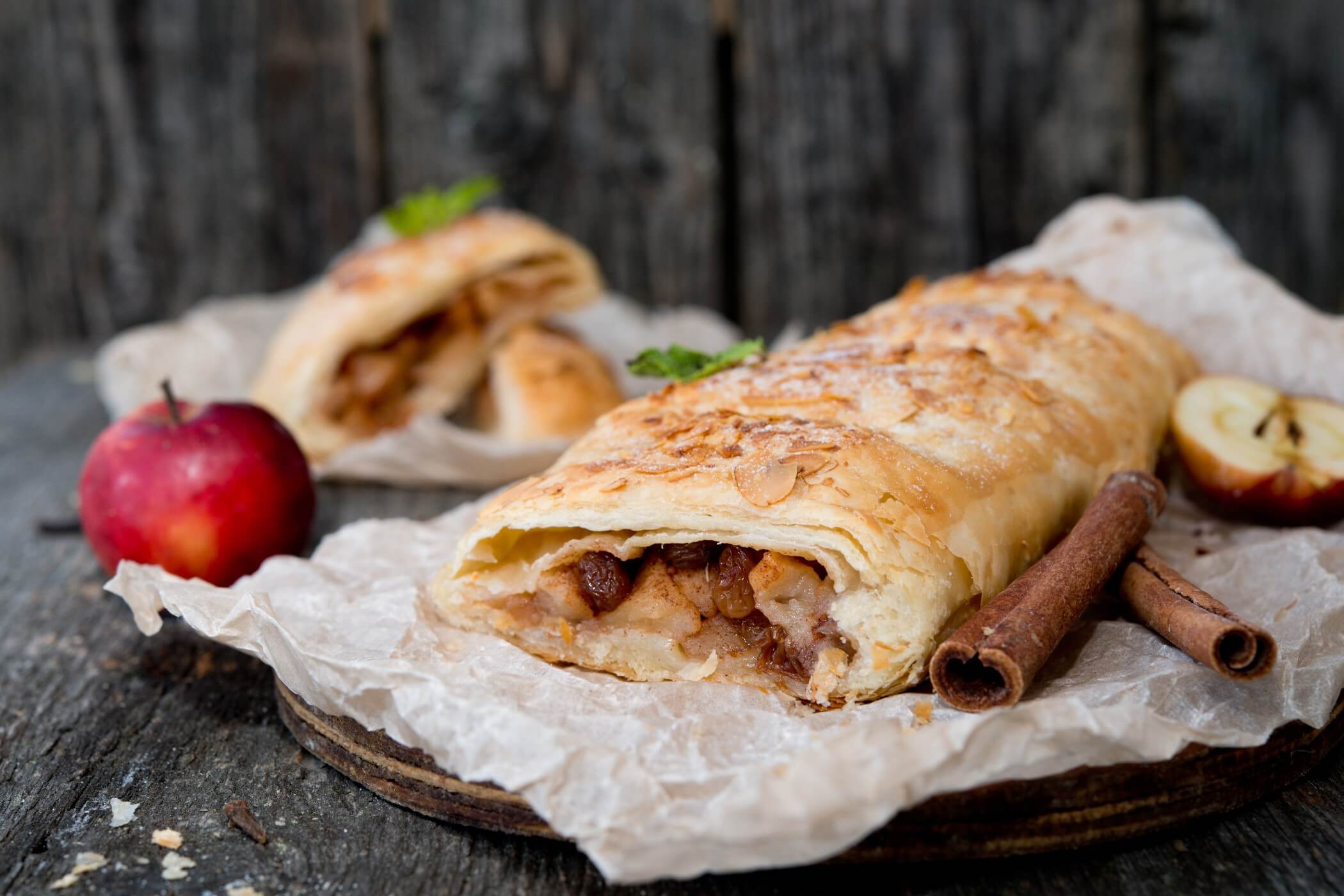 Also known as lobster tail across the globe, sfogliatelle is yet another flavourful pastry dessert filled with sweet ricotta cheese and a zingy citrus peel. Originating in Naples in the 17th century, sfogliatelle is not only a scrumptious sweet treat but can also prove an excellent source of energy – what more could you ask for?
Perfect for breakfast or as a delicious addition to your next afternoon tea, sfogliatelle is made from flaky, shortcrust pastry; then, if you are following a traditional recipe, filled after baking. Although the flavour of the filling is entirely your choice, the classic option is a vanilla, cinnamon and candied orange peel-infused ricotta.
As a heavenly festive treat enjoyed year after year, panettone combines sweet, buttery dough with dried fruit for the perfect accompaniment to your afternoon cup of coffee. In fact, did you know that many opt for dipping their panettone slices in their cappuccino or espresso? Once you try it, you won't turn back!
Creating your very own panettone is simpler than you may think, allowing you to experiment with different flavours, whether you opt for melt-in-your-mouth dark chocolate chips or vibrant hints of zingy lemon. The trick to the perfect panettone is to use strong flour, as this allows all of the ingredients to be absorbed for a beautifully light texture.
Once you try a zeppole, it's impossible to stop yourself from reaching for more. As light, golden fried doughnut balls dusted with powdered sugar, zeppole pastries are traditionally served at Italian festivals.
Made from choux pastry dough, which in the UK is most commonly used for eclairs, zeppole offers a much more crisp, light and fluffy texture. The batter is super straightforward to make yet does take a little patience – take a look at this recipe by Italian Chef for more details.
While traditional zeppole is topped with a dusting of powdered sugar, there's absolutely no reason why you cannot add your own twist with a drizzle of chocolate or even fruit!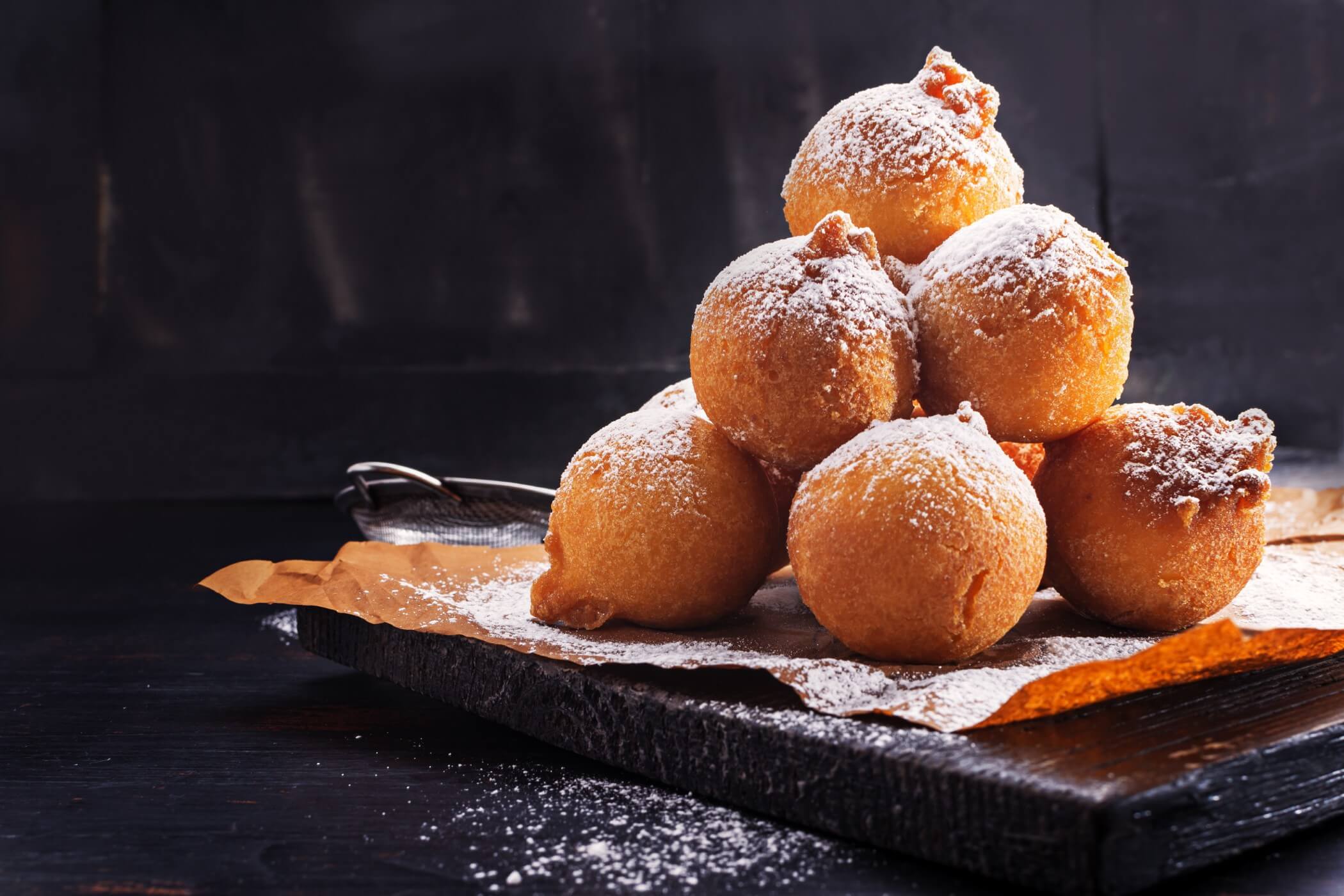 With their distinctive mushroom shape, traditional Baba Napoletanos are impossible to miss. Soaked in rum or limoncello and coated in a sticky citrus syrup, this tasty sponge cake couldn't be more indulgent and is perfect for those with an extra sweet tooth.
The secret to a classic Baba Napoletano is perfecting a cloud-like consistency; this is achieved by combining your ingredients step-by-step, allowing proving time in between. Although delicious served alone, a dollop of cream fills this dessert with extra goodness. Create your own from home with this recipe by Great Italian Chefs!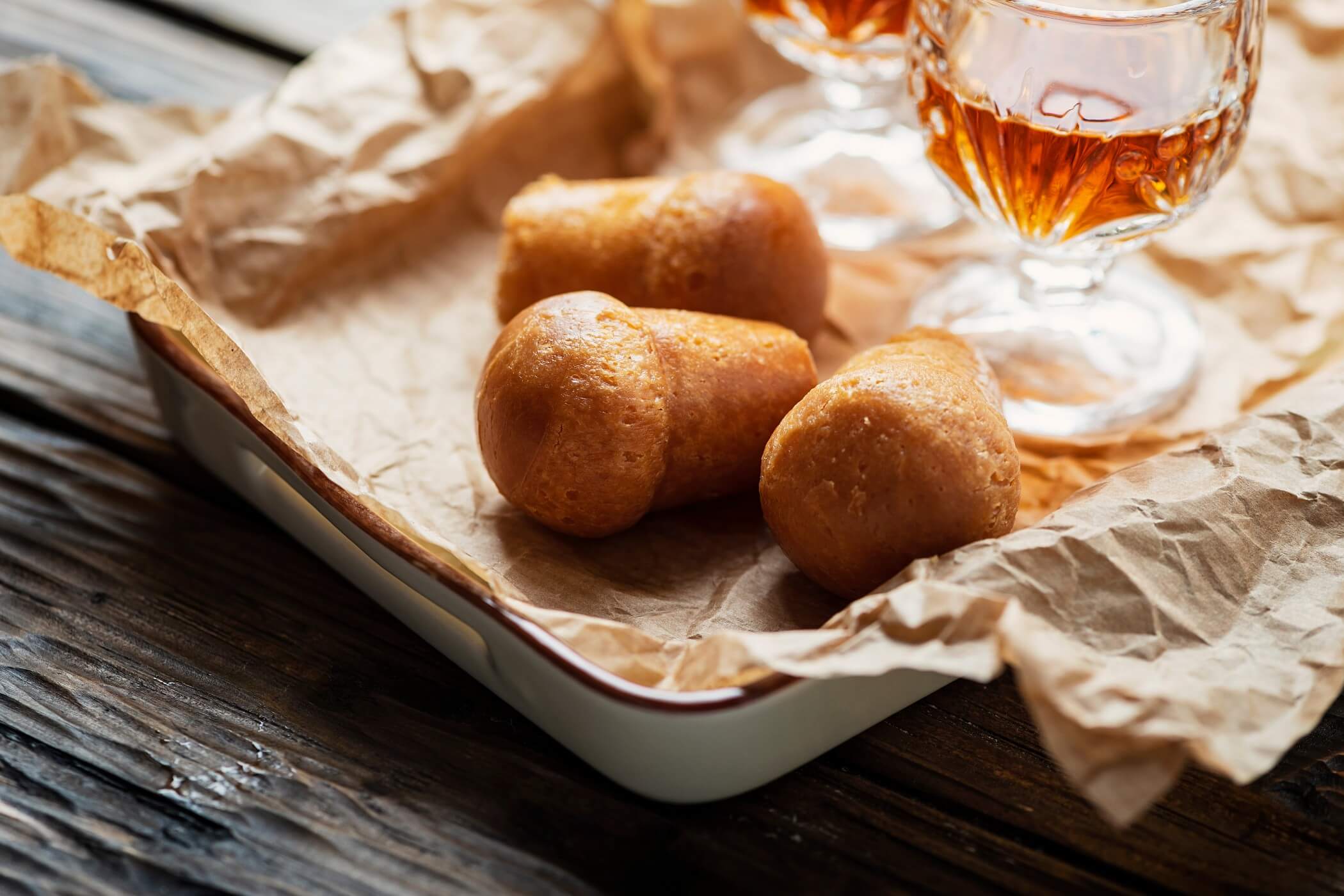 Described as an Italian-style rice pudding tart, it is a tradition for budino di riso to be lovingly made by the grandma of the family. It features a crumbly, shortcrust pastry filled with vanilla rice pudding infused with citrus. Neither too sweet nor too savoury, budino di riso makes for the perfect breakfast, widely enjoyed as a Sunday treat.
Beautifully smooth and creamy with a subtle crunch of the pastry, budino di riso is relatively straightforward to make from home. For a lighter alternative, many opt for skipping the pastry and simply filling tartlet pans with the fragrant rice pudding before popping it in the oven to bake!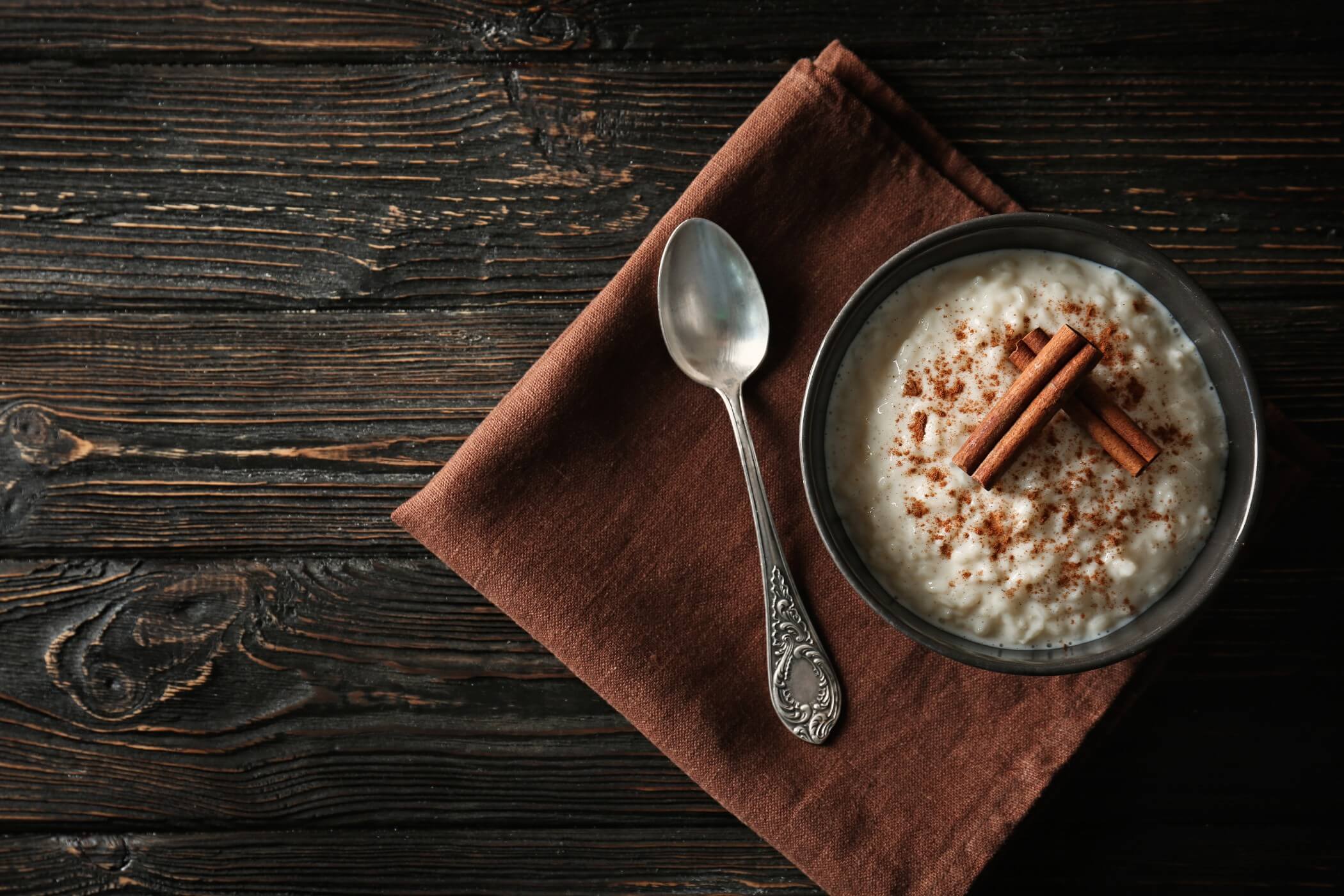 The Tastiest Traditional Italian Desserts
We don't know about you, but our mouths are now watering at the thought of these delicious Italian desserts – and these are just a few examples of sweet treats you can make from home!
As always, if you would prefer to sit back, relax and enjoy delectable dishes made by the experts, our doors are always open. Visit one of our much-loved restaurants or order our takeaway in Milton Keynes to tuck into the traditional Italian goodness of our perfected menus.
Thinking About Booking A Table?
Enter your enquiry here and we'll be in touch shortly!