As an Italian favourite shared across the globe, nothing says comfort food quite like pizza. Freshly prepared and topped with your favourite ingredients, the beauty of pizza is that it couldn't be easier to customise to your tastebuds.
When it comes to toppings, it's fair to say that we're an advocate for pushing the boundaries. From pasta and risotto to our signature Nutella pizza, we're confident that we can make just about anything work – and so can you!
So, whether you're looking for classic recipes or want to go bold with flavours, we're going to let you into the best pizza toppings available at Murati's.
Our Best Pizza Toppings – What Will You Try Next?
At our restaurants in Milton Keynes and Northamptonshire, we're proud to be known for our delicious freshly made pizzas. While the pizzas on our menu have been expertly created with flavours that beautifully complement one another, our customers do have the freedom to add or remove toppings to their preferred taste. All of our creations can also be altered to meet dietary requirements, whether you require a gluten-free base of vegan cheese.
By now, we can assume your stomach is rumbling, and you're eager to start getting to know our wonderful pizza menu – so let's dive in!
Want To Book A Table?
Visit us at one of our popular branches – we would love to see you.
By far, the most popular pizza toppings involve meat, and with a wide selection, we don't blame you! From delicious parma ham to spicy salami and much more, you can enjoy an abundance of meaty creations.
When adding meat to your pizza, it is important to beautifully compliment the flavours with chilli, garlic, onion and even more meat! For example, spicy chicken and beef go down a treat, especially when paired with another layer of heat from jalapeños. If you're looking for recipes to try at home, take a look at our previous article on how to make pizza dough.
We know your tastebuds will be tingling at the thought of pizza, so let's dive into the best meat pizza toppings you will ever have!
1. The Luganica: Italian Sausage, Garlic, Spinach & Chillis
The best way to enjoy an authentic taste of Italian cuisine is to try Italian sausage on your pizza, a pork sausage seasoned with various herbs, with the primary ingredient being fennel. Depending on the recipe, Italian sausage can be spicy or mild, so be sure to ask our team if you're unsure whether this suits your tastebuds.
To complement the herby flavours in the sausage, we highly recommend chillis, as this intensifies the rich flavour. Toning down the spice, we enjoy adding sauteed garlic spinach onto the pizza for a contrasting flavour that packs a punch.
You can try your hand at cooking up your own Italian sausage using this fantastic recipe from The Daring Gourmet!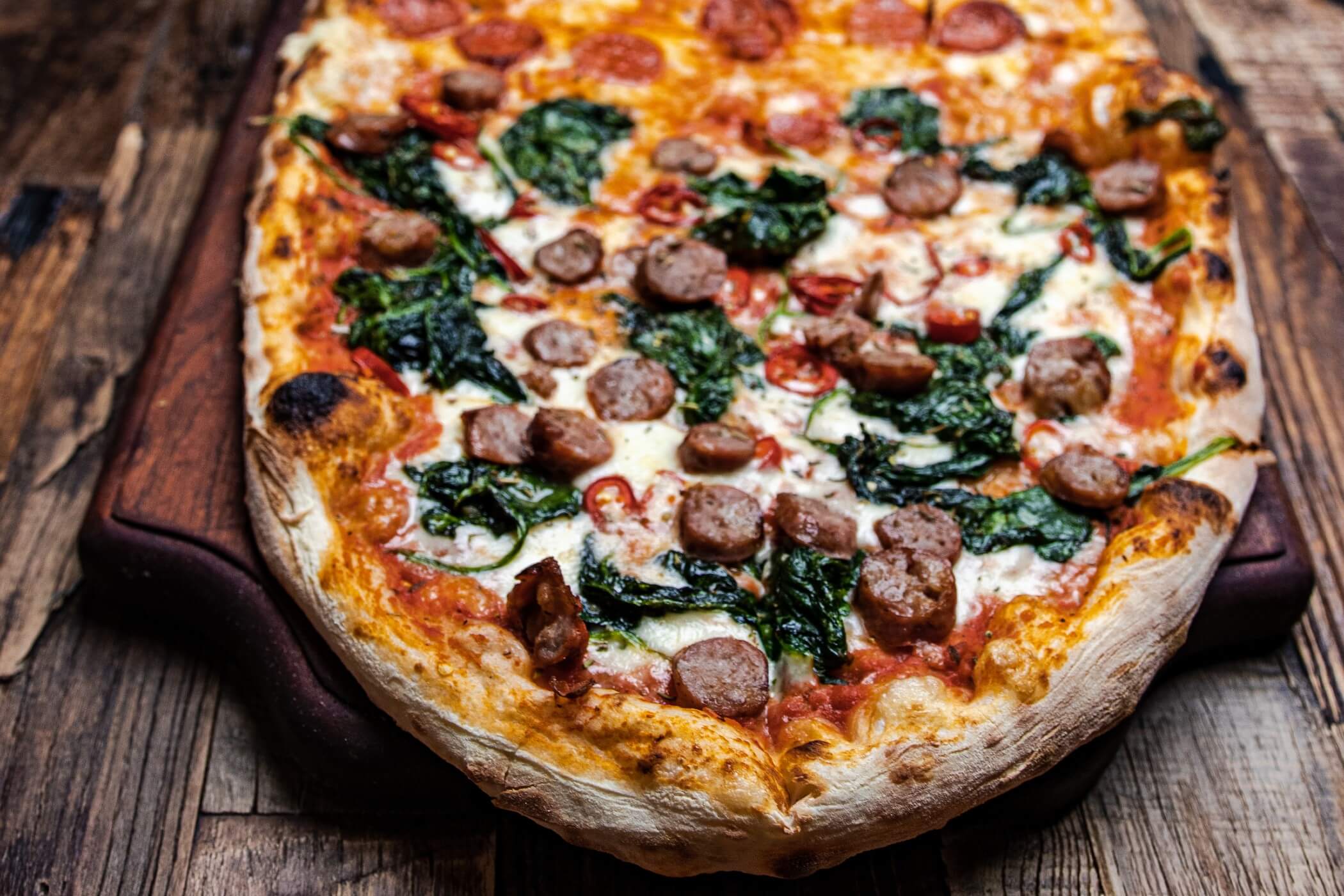 2. The Meaty Picante: Spicy Salami, Hot Chicken, Beef, Jalapeños & Onion
If you're looking for a mouthwatering pizza stacked with the tastiest, meaty flavours, you're in luck. This delicious combination of meats, heat and caramelised onions gives you the perfect level of savoury and sweet. It remains one of our most popular choices, but we only recommend it if you're a lover of spice. Every bite of this delicious pizza will make your mouth water even more, so why not pop on down for some flavour-packed goodness?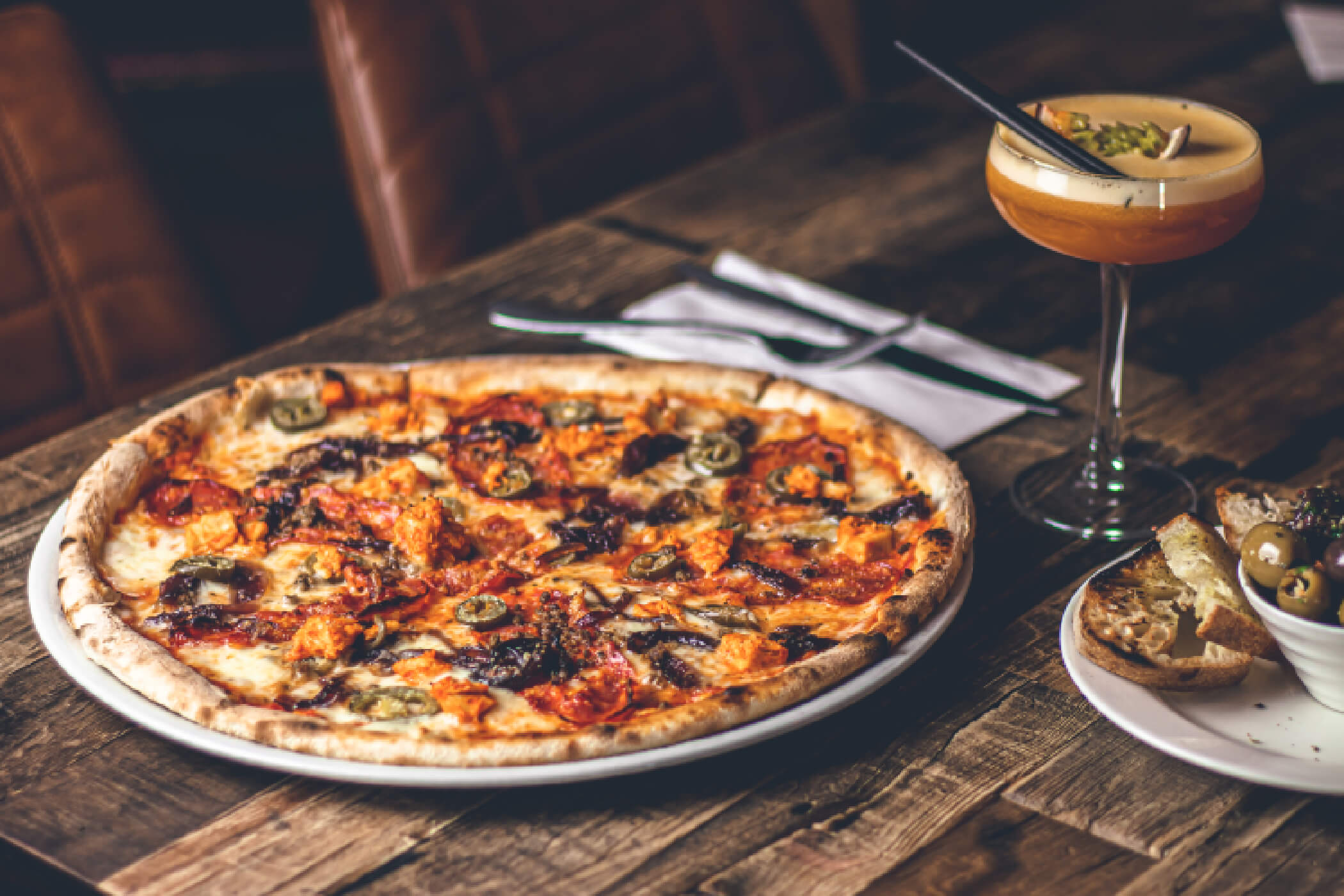 3. The Meaty: Pepperoni, Chicken, Beef, Italian Sausage & Mozzarella
We're back at it again with another meat-packed pizza, and we've most definitely gone all out. As a firm favourite amongst our customers, this mouthwatering pizza features a selection of pepperoni, chicken, beef and Italian sausage, offering everything you could possibly ask for as a meat lover. And don't forget, when visiting one of our Italian restaurants in Milton Keynes, you can add and remove any ingredients you want to make it your own!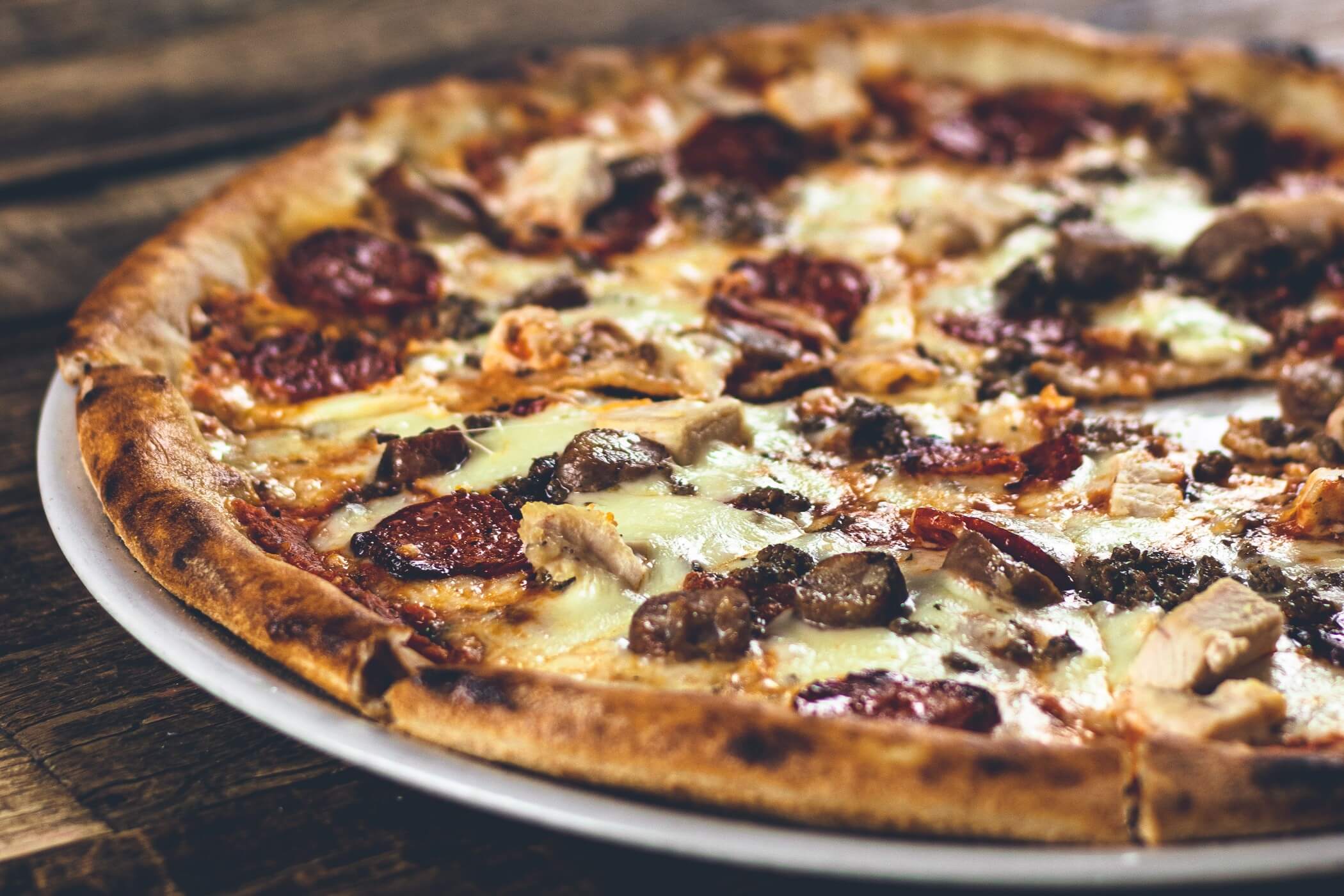 4. The Pepperoni: Pepperoni & Mozzarella
You can't go wrong with a classic pepperoni, giving you that hint of meaty flavour you long for without overpowering it with any other ingredients. This is one of the popular options at our restaurants, and you can easily add some onion, pepper or even some sundried tomatoes if you wish. Pepperoni holds an abundance of powerful flavour, so while it may be the only topping on your pizza, it will certainly go down a storm.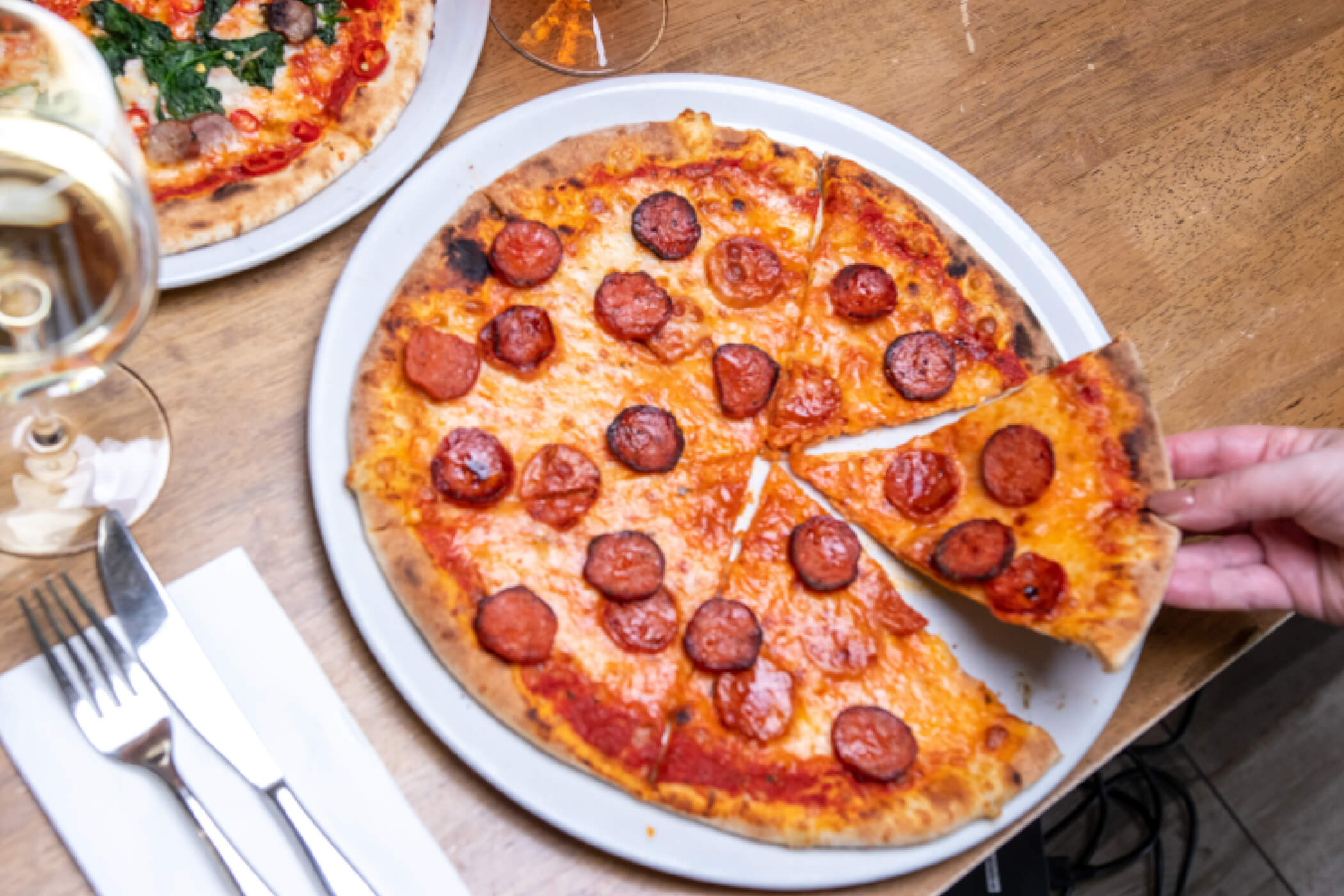 5. The Parma: Parma Ham, Rocket, Tomatoes & Parmesan
For a more delicate meaty pizza, we have our popular parma. This pizza has a delicious handful of parma ham, a thin slice of meat with rich flavour. This gives you a subtle meaty hint without overpowering the pizza and goes perfectly with rocket or spinach. We add some fresh tomatoes and a small shaving of parmesan to add to the flavours, giving you the perfect, light and extremely tasty pizza.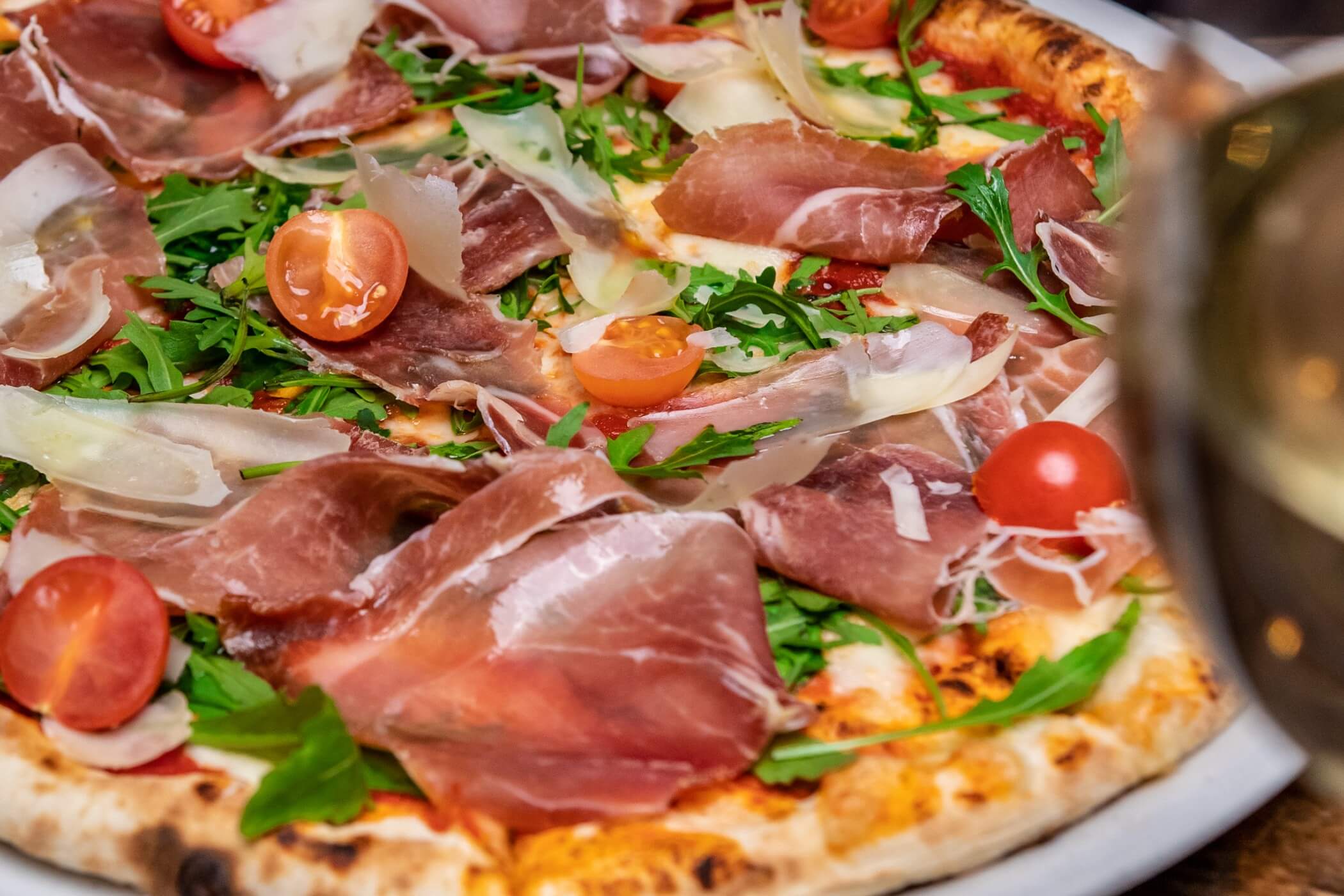 6. The Calzone: Mozzarella, Ricotta, Mushrooms, Prosciutto Cotto & Pepperoni
Have you ever heard of a calzone? Simply put, a calzone is a pizza folded over before popping it in the oven. This gives you an even crispier pizza on the outside but soft and delicious toppings on the inside.
Our classic calzone is brimming with signature Italian ingredients and served with a Pomodoro dip, a traditional sauce created using tomatoes, olive oil, garlic and a dash of sugar to balance the flavours. Want to try this unique twist on a pizza for yourself? Feel free to book a table at one of our restaurants in Milton Keynes or Northamptonshire, and be sure to let us know what you think!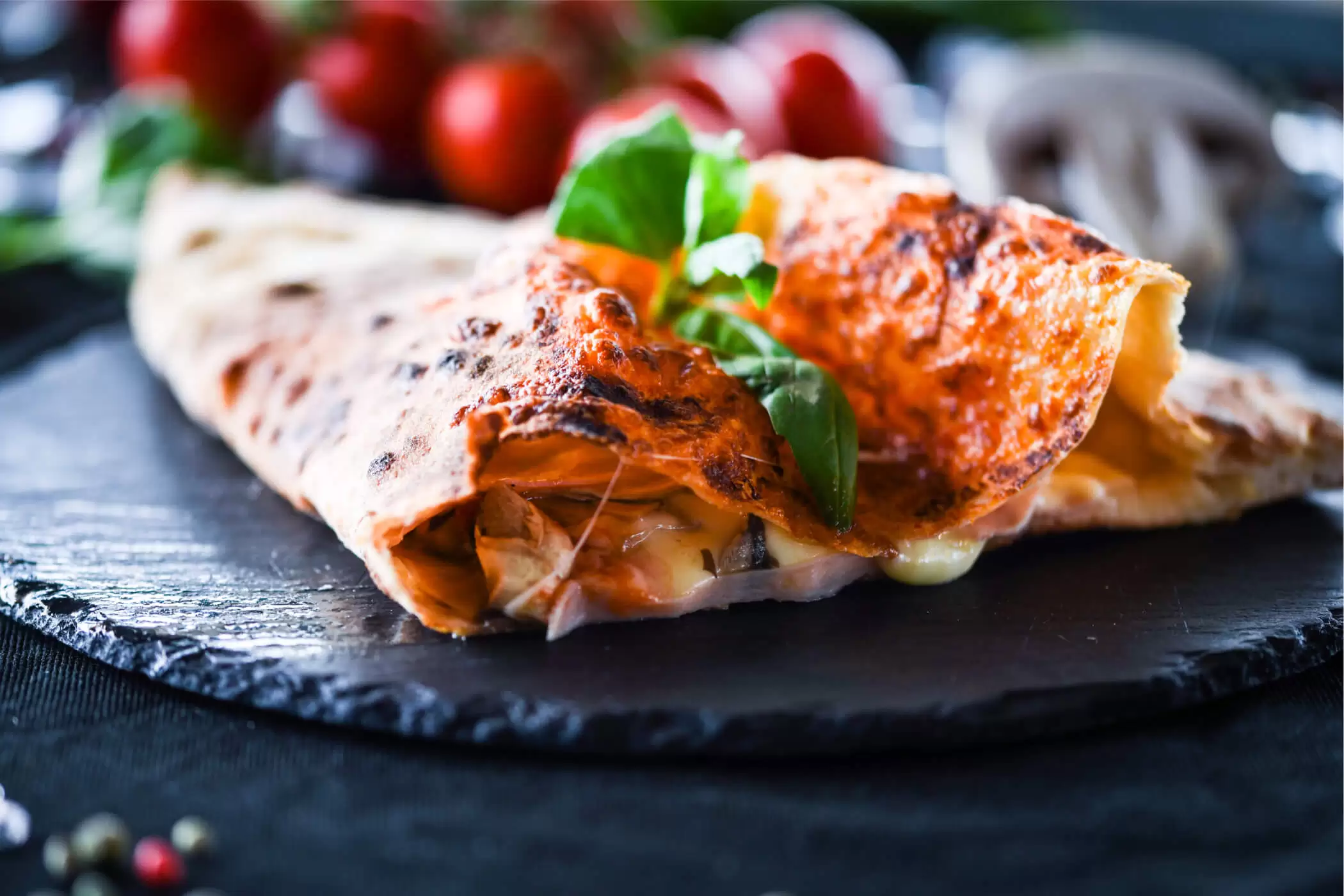 As a family-run branch of restaurants, we are committed to making our locations welcoming for all of our guests. That's why we not only have a delicious range of vegetarian pizzas but all of which can also be made vegan by substituting ingredients or switching to dairy-free cheese. Let's take a closer look at your options:
7. The Vegetarian: Mozzarella, Garlic, Peppers, Mushrooms, Zucchini & Black Olives
Packing a punch with exclusively meat-free ingredients, our signature vegetarian pizza combines creamy mozzarella with the richness of roasted veggies and a hint of spice for a delicious main dish. This remains the number one choice amongst our vegetarian customers, also available with vegan cheese. Want to share this tasty pizza amongst your friends? Why not opt for one of our half-a-metre or metre-long pizzas?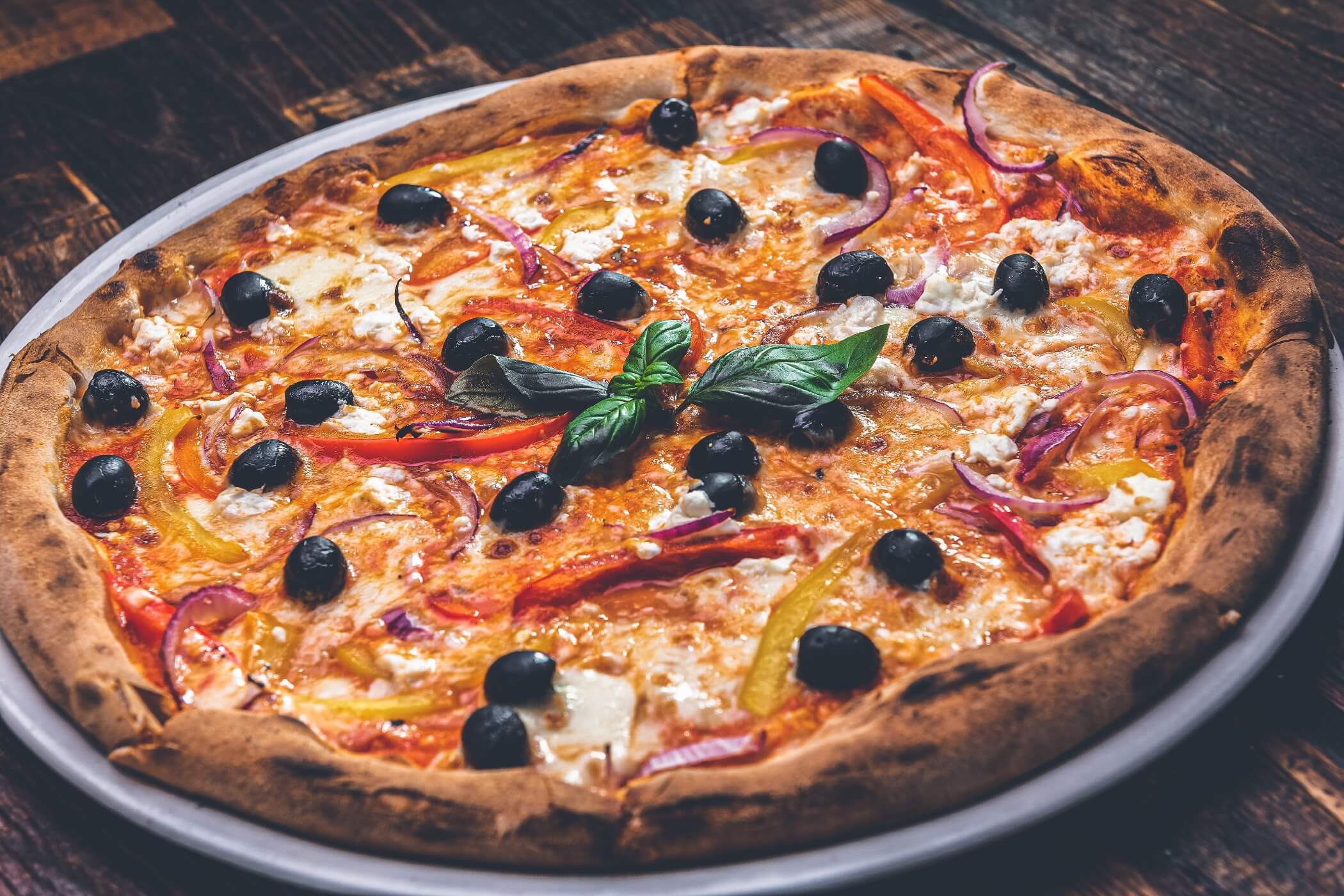 8. The Margherita: Mozzarella & Tomato Sauce
Treat yourself to an absolute all-time classic with a Margherita, a pizza that needs no description! Why not make it your own by adding any four toppings you fancy? Here at Murati's, we always look to create new and creative pizzas, so we're more than happy to add toppings of your choice to hit the spot and celebrate tradition while embracing your cravings.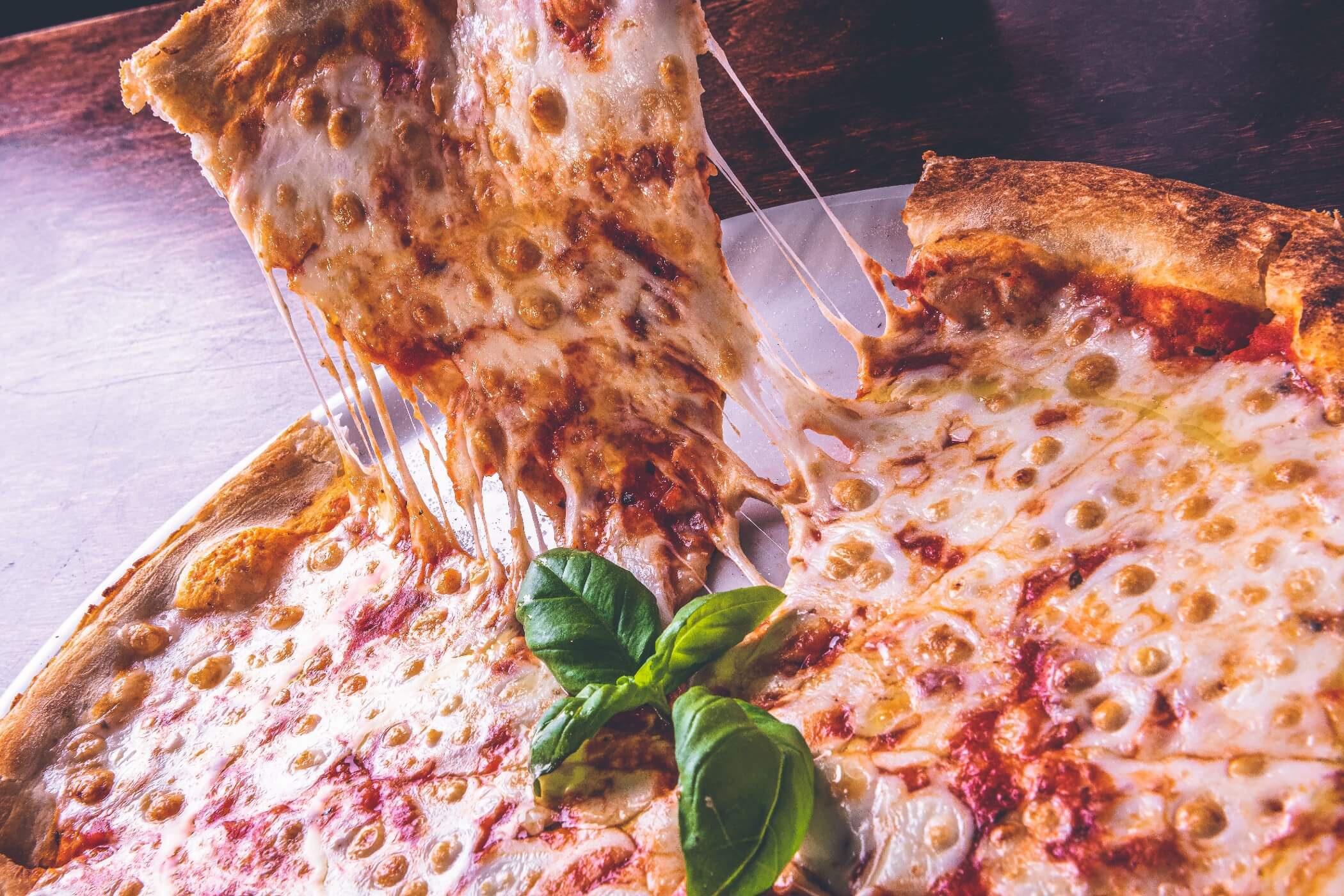 9. The Caprese: Tomatoes, Buffalo Mozzarella, Sundried Tomato & Basil
If you are looking for something simple without compromising flavour, our next pizza is for you. Our white base is topped with tomato sauce, sundried tomatoes and buffalo mozzarella before going into one of our fire ovens. Then, once removed, we top the pizza with some fresh basil to bring all of the flavours together. Feel free to give your pizza a twist and add some onion or rocket!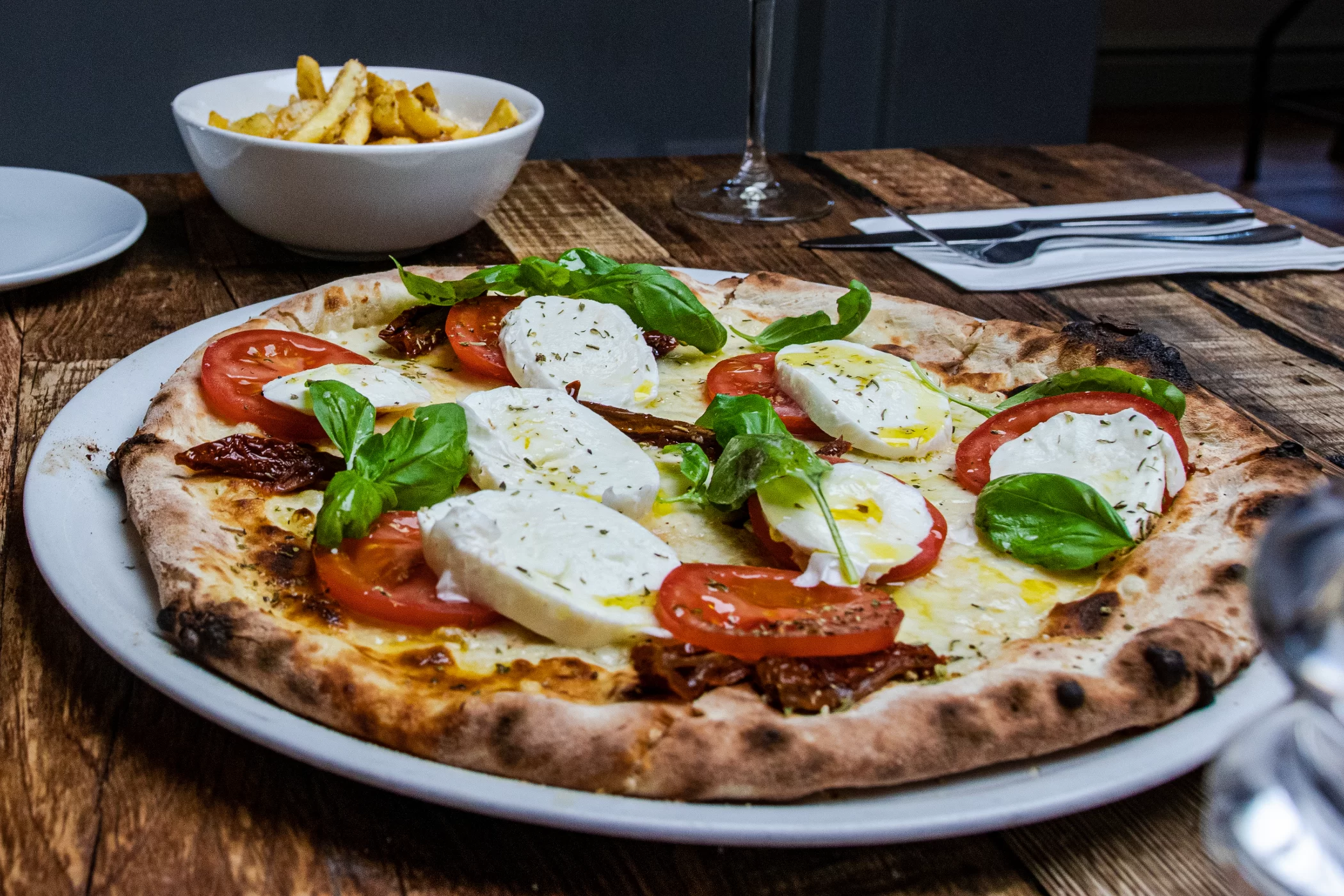 10. The Goats Cheese & Caramelised Onion: Mozzarella, Spinach, Caramelised Onions, Goats Cheese, Garlic & Red Onions
A more modern twist on your favourite Italian flavours, our goat's cheese and caramelised onion pizza offers the perfect balance of sweet, nutty onion and the tartness of goat's cheese. This is a super indulgent dish, much-loved amongst our customers who are looking for something a little different from your traditional pizza toppings. We are confident it will become one of your favourites!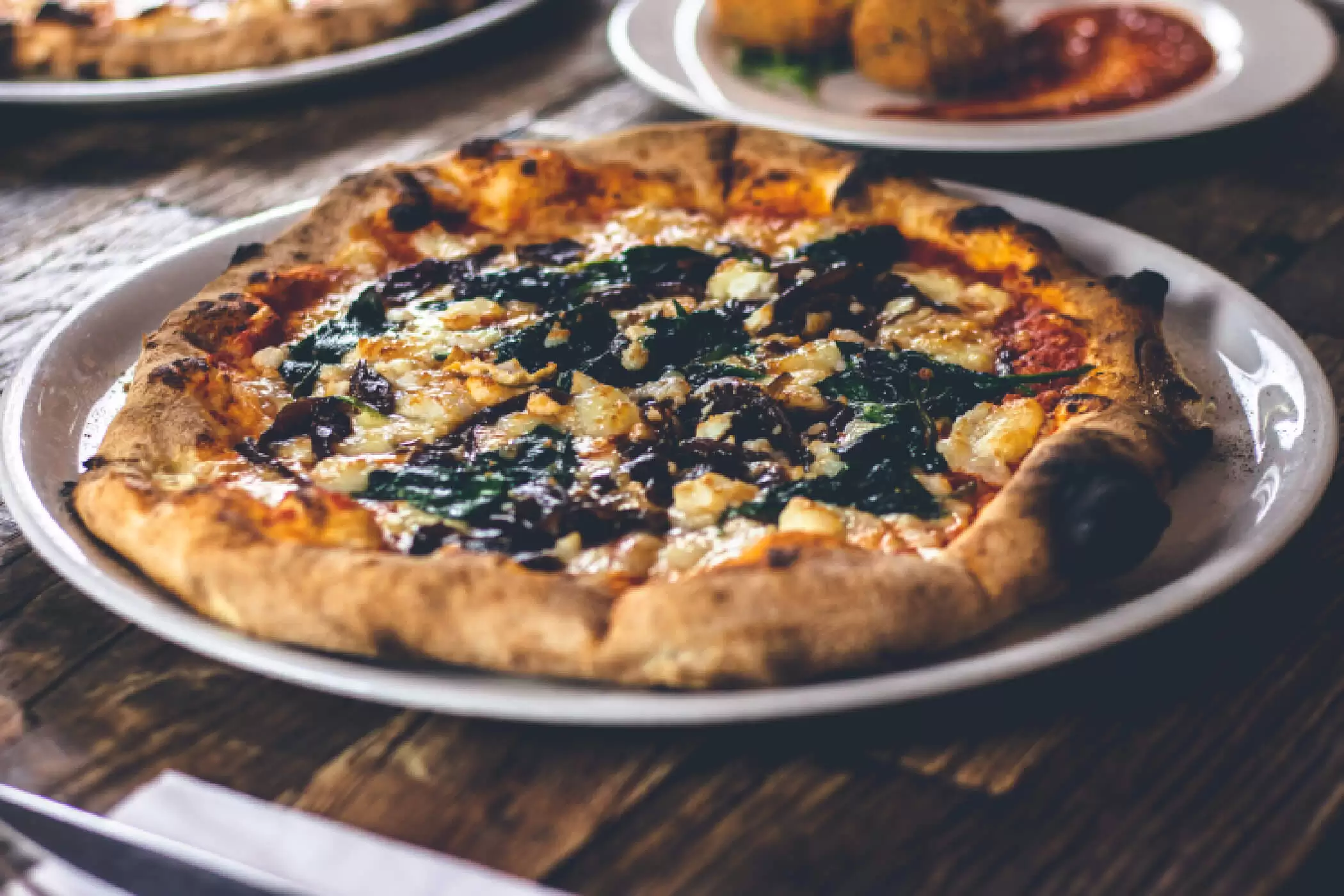 11. The Classic Garlic Bread
You can't start your Italian dining experience without some garlic bread! And luckily for you, our garlic bread can be made vegan or gluten-free, so why not make an order? Our delicious handmade dough is carefully made to give you those fluffy and crisp pizza edges and is topped with a load of cheese and garlic to get you ready for your main course. Want to try creating your own homemade garlic bread pizza? Why not follow this recipe from CenterCutCook?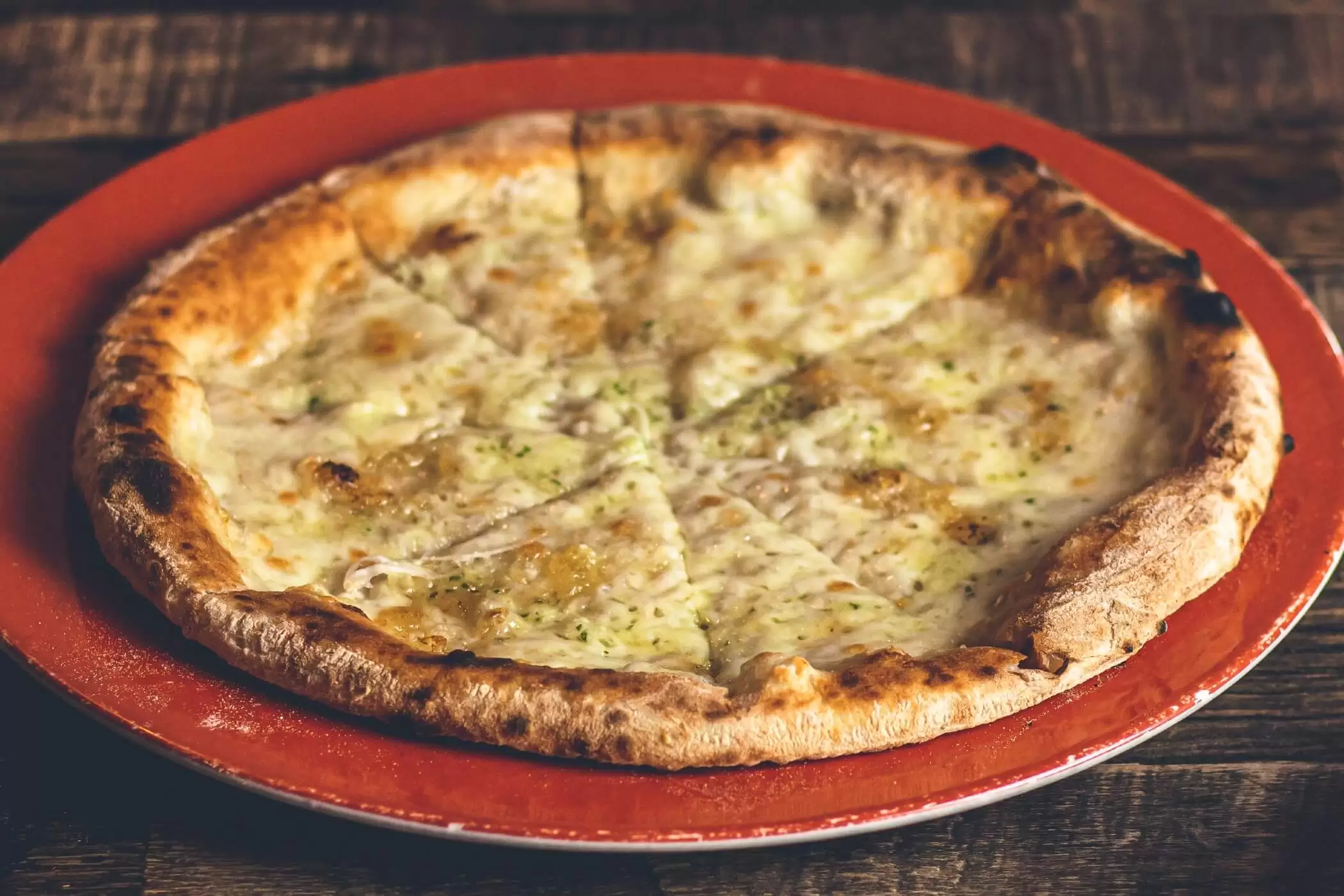 Pizza is notoriously indulgent, but this most definitely doesn't mean you have to say goodbye when making healthy food choices. Our lighter pizza options are lower in calories without compromising the unbeatable flavour you crave:
12. The Fruti Di Mare: Prawns, Calamari & Mussels
For our customers craving some healthy, freshly prepared seafood, there is no better choice than our tasty fruti di mare pizza. With a combination of prawns, calamari and mussels topped with rocket, this dish gives you all the feels of relaxing in a cosy restaurant on the tranquil Italian coast. We cannot wait for you to sample this one!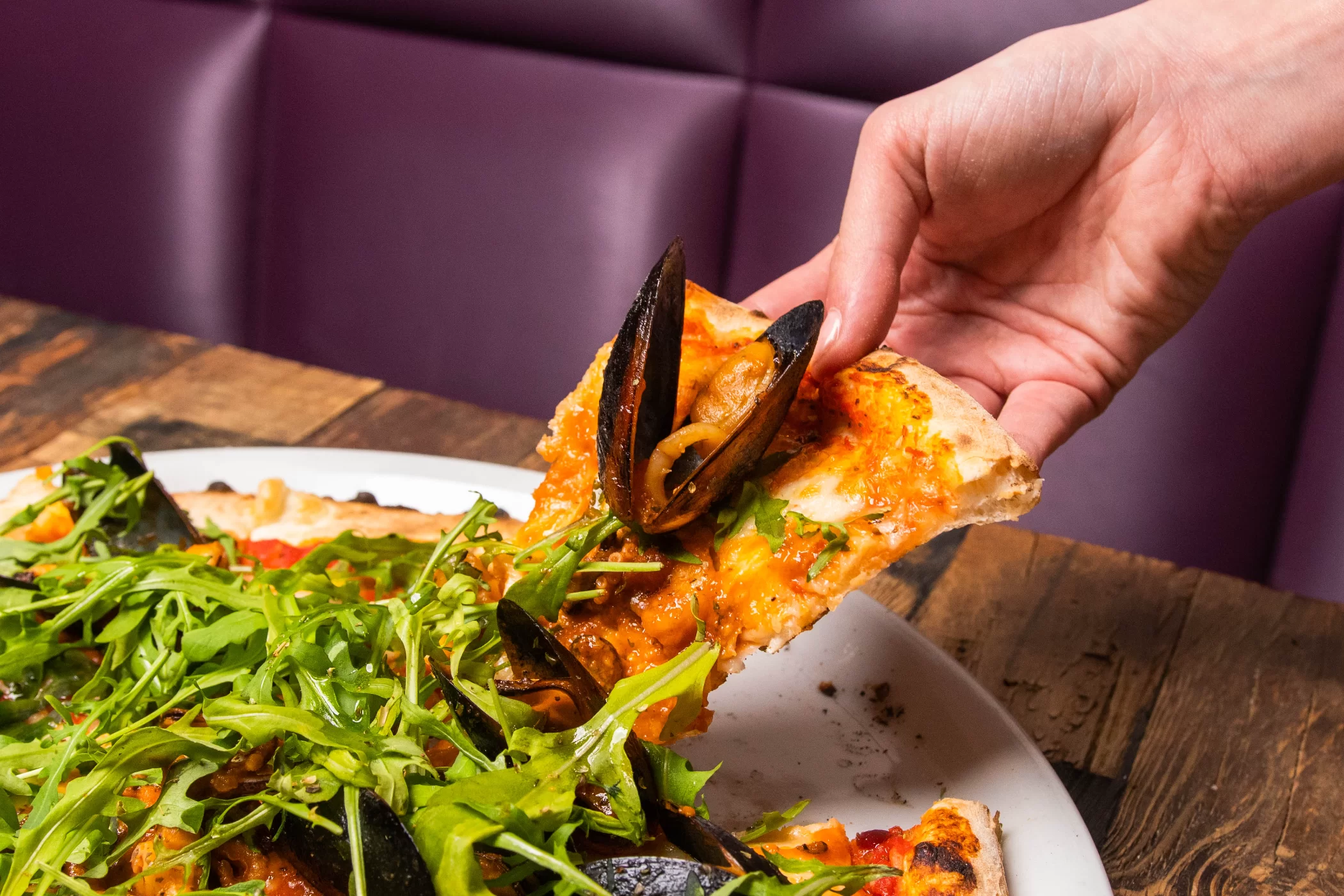 13. The Napoletana: Anchovies, Capers & Olives
This simple yet flavourful pizza balances refreshingly light and irresistibly flavourful while maintaining your sense of well-being and health. Combining a rich tomato sauce with salty anchovies, zesty capers, and sweet black olives sprinkled with herby oregano, these pizza toppings are a must-try during your next visit! For more ideas on lighter pizza toppings, take a look at Taste!
Join Our Mailing List
Sign up for exclusive deals, the latest news and more.
Which Pizza Takes Your Fancy?
There are so many topping combinations for you to choose from and so many opportunities for you to make them your own. Whether you're a massive meat enthusiast or a vegan, vegetarian or gluten-free foodie, there's a pizza topping that's perfect for you and your dietary restrictions or preferences, so don't be afraid to get creative and explore your options. If you want to try some delicious traditional pizza or even pasta, then be sure to head on down to one of our restaurants or enjoy a meal from the comfort of your home through our fabulous takeaway in Milton Keynes!