If you're anything like us, there's nothing more rewarding than a delicious bowl of your favourite pasta dish after a long, tedious day. Whatever your pasta sauce of choice is, be it creamy, fragrant and herby, or rich and tomato-based, you can easily upgrade your go-to pasta dish by making the pasta fresh yourself!
While the idea of making pasta from scratch may be daunting, we promise it's not too complicated. Whether you have a pasta machine to assist you or would prefer to go about making your pasta the traditional way, you won't want to go back to the store-bought stuff after you see how much better fresh pasta tastes! In this article, we outline not only how to make the perfect pasta dough but also some mouth-watering recipes you can make using your homemade pasta. Read on to discover our favourite easy homemade pasta recipes and how you can make them yourself!
Easy Homemade Pasta Recipes You'll Love
At our authentic Italian restaurant in Newport Pagnell, we prepare each dish freshly from scratch each day. We've decided to let you in on some of our favourite pasta recipes and techniques so that you can have a go at preparing fresh pasta yourself! Regardless of dietary restrictions or preferences, we believe that everyone deserves to enjoy tasty, freshly cooked Italian food, which is why we've included recipes that are vegan-friendly and gluten-free. If you'd rather leave the pasta concocting to the professionals, why not come on down to Murati's and select a delicious pasta dish from our menu?
Making Your Pasta Dough

Shaping And Cooking Your Pasta

Delicious Pasta Dish Recipes
Subscribe To Our Newsletter
Get access to exclusive deals, important updates and more!
The first step to creating a delicious fresh pasta dish from scratch is making your pasta dough. While this task may seem daunting, we promise that it's really not too tricky once you get the hang of things! Here are the ingredients you will need to make your very own fresh pasta dough:
Once you have your ingredients, all you will need is a large bowl, a spoon and access to a clean, flat surface. Don't forget to wash your hands thoroughly before you start! Here are the steps to making your pasta dough:
Add both types of flour to your large bowl.
Crack both eggs into the bowl and mix all the contents together with a spoon.
Use your hands to thoroughly combine the ingredients, ensuring that all of the flour is incorporated into the dough.
If your dough is too stiff, add a dash of water. If it's too sticky, a pinch of flour will do the trick.
Lightly flour your surface, place your dough onto it and use the heel of your palm to knead it for around five minutes.
Wrap the dough in clingfilm and set it aside for 30 minutes before shaping and cooking it. When wrapped tightly in clingfilm and placed inside a paper bag, the dough will last in the fridge for up to a week.
For those who do not eat eggs, finding edible fresh pasta can be a challenge! But it's certainly not impossible: in fact, eggless fresh pasta is the norm in Southern Italy, where the heat would quickly spoil egg-containing pasta before the days of refrigeration. This homemade pasta recipe without eggs is naturally vegan-friendly, cholesterol-free and could not be simpler to make, containing just three ingredients:
2 cups of semolina flour
Half a cup of warm water
1/2 teaspoon of salt
Since all three of these ingredients have a long shelf life, this fresh pasta will keep for longer than variations that include eggs. It also tastes just as delicious! If you fancy trying your hand at making it, the steps to do so are as follows:
Combine the semolina flour and salt in a large bowl and mix them together with a wooden spoon.
Carefully pour the warm water into the bowl and mix all the ingredients together until you form a stiff dough.
If your dough is too dry, crumbles and won't stick together, you can gradually add a little more warm water until it holds together without becoming too soft.
Lightly flour a clean, flat surface by sprinkling flour over it with your hands until it is thinly covered.
Gather the dough into a ball, pick it up and place it on the floured surface.
Knead the dough for 10-15 minutes. For a guide on kneading pasta dough, check out Bon Appetit.
After kneading, your dough should be supple and springy. Wrap it in cling film and leave it to stand for 20 minutes.
If you're gluten-free, you know the struggle of finding a gluten-free pasta that doesn't taste like cardboard! Not to worry, you needn't take a chance on store-bought brands anymore: we have the perfect recipe for you to make your own delicious gluten-free pasta from the comfort of your home. It's easy to make and consists of just two ingredients:
2 cups of gluten-free flour
2 eggs
Alternatively, you can always come on down to one of our restaurants in Milton Keynes and try our version. You won't even taste the difference from the real thing! If you do want to give it a shot yourself, here's our favourite easy homemade gluten-free pasta dough recipe:
Place half of the flour onto a clean, dry work surface and create a well by forming it into a mound with your hands before creating a bowl shape in the centre of the mound.
Crack both eggs into a bowl before pouring them into the flour well.
Using a fork, whisk the egg whites and yolks together in the well, gradually incorporating the flour as you go until you create a loose, sticky dough.
Once you have formed a loose dough, use clean hands to mix it with any flour remaining on the work surface, creating a firmer dough.
When all flour from the surface is incorporated, you can gradually work the other half of the flour into the dough using your hands.
Once all the flour is mixed into the dough, continue to knead it for a few minutes until it becomes smooth.
Cover the dough with a damp paper towel and set it aside.
If you happen to have a pasta machine handy, you can use it to roll out and cut your dough into long pasta shapes such as lasagne, fettuccine or tagliatelle. Here's how you can do this:
Cut off a quarter of your dough and sprinkle flour over it to prevent it from sticking to the machine. Make sure that the rest of the dough stays wrapped up whilst you do this to prevent it from drying out.
Feed the dough into your pasta machine while rotating the handle to roll it into a flat sheet. Read the machine instructions before you do so to check that it is on the correct setting – you may need to gradually decrease the thickness setting as you go.
Fold the sheet of dough over, sprinkle more flour over it and repeat the rolling process until it is at the desired thickness.
Change your machine settings to the cutting mode and feed the thinly rolled sheet into it while you rotate the handle to produce individual strands of pasta.
Lay the pasta out to dry for 10-20 minutes. You can do this by laying it on a clean, dry surface or by hanging it on a drying rack.
Once your pasta has dried, cook it in boiling, salted water. The egg-free pasta should be cooked for 45 seconds to produce a perfect al dente texture, while the gluten-free recipe will take 3-5 minutes. Your pasta is now ready to strain and serve with your favourite sauce. Read on for some delicious pasta dish ideas!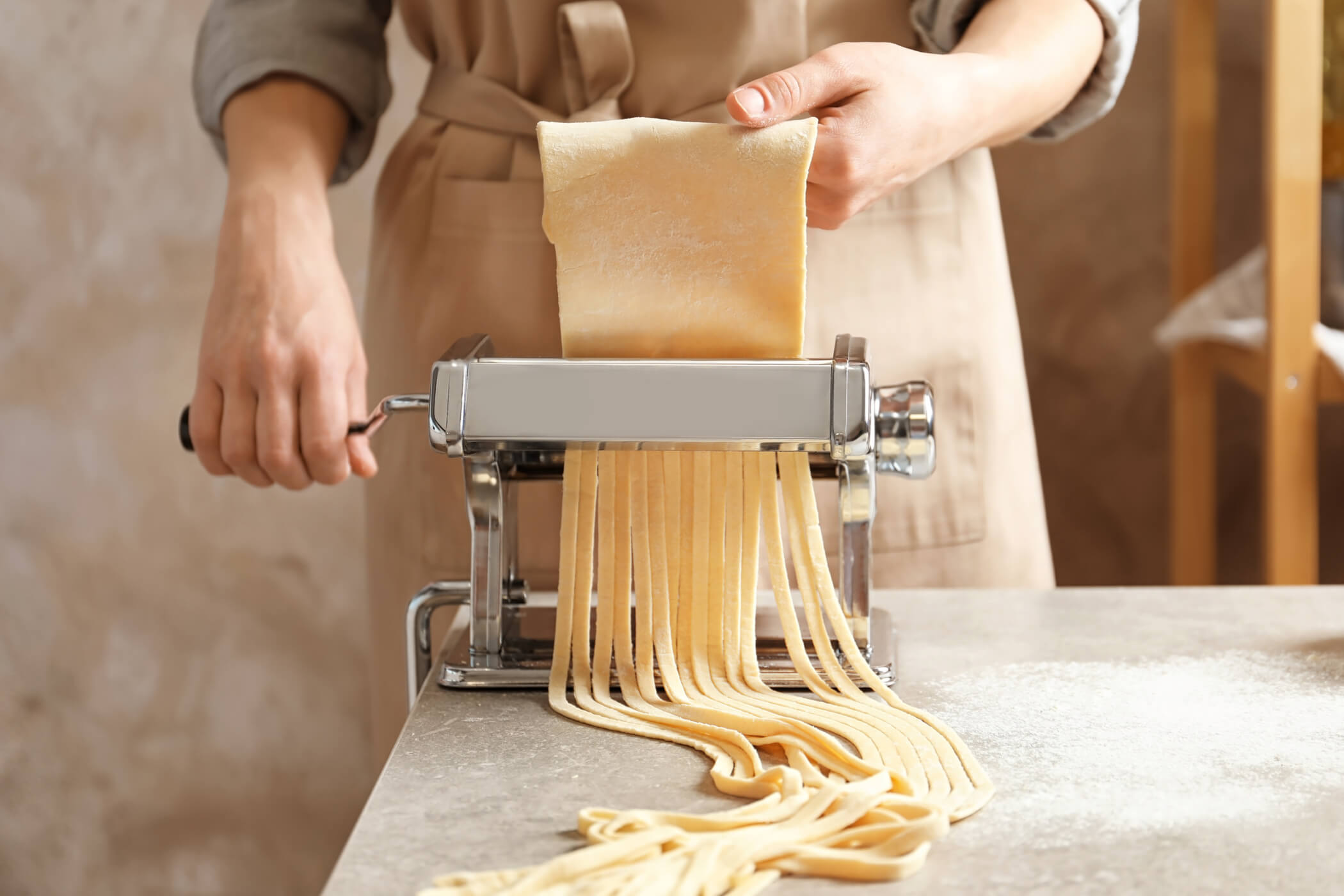 If you don't have a pasta machine, not to worry! You can still make delicious fresh pasta from the comfort of your home. All you'll need in place of the machine is:
A rolling pin or empty wine bottle
A sharp knife
Optional: pasta-making tools
Here's how you can turn the pasta dough into shapes without a machine:
Take a quarter of your dough and set it on a clean, floured surface, leaving the remaining dough wrapped up. Use your rolling pin to roll it into a thin, vaguely rectangular sheet.
To make long, rectangular pasta shapes such as lasagne, tagliatelle and linguine, use a sharp knife to cut the dough into strips. This may be easier if you let the sheet of dough dry a little first to prevent it from bunching up. For ways to make smaller, fun pasta shapes, check out Kitchen Stories.
When your pasta dough is divided into shapes, leave it to dry for 10-20 minutes, placing longer pieces on a drying rack and smaller ones on a clean surface.
When dried, cook your pasta in boiling, salted water, strain and voila! The egg-free fresh pasta will need 45 seconds to cook, and the gluten-free pasta will need 3-5 minutes.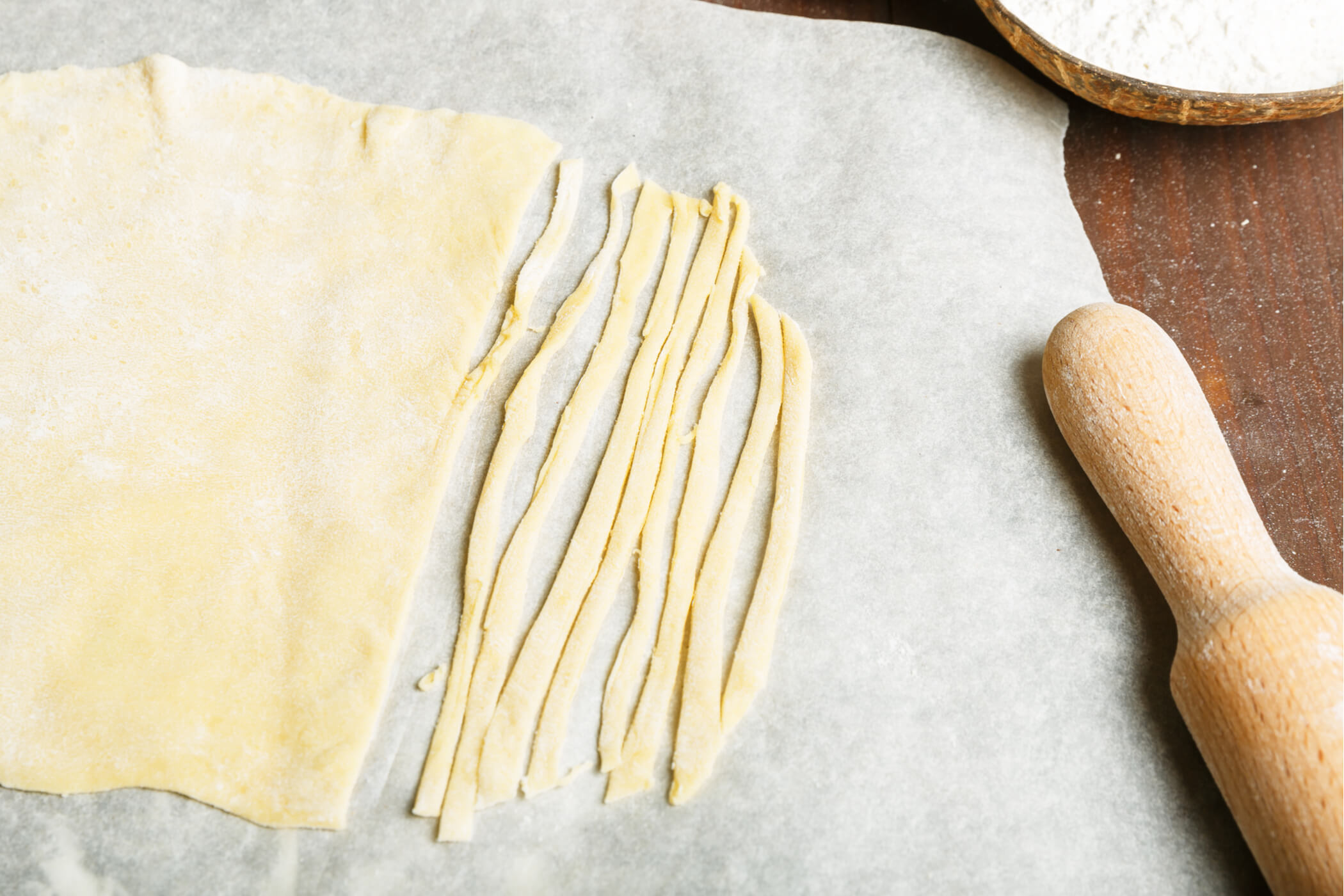 If you're searching for a tasty homemade vegan pasta recipe to go with your fresh egg-free pasta, we've got you covered- here are three! These pasta sauce ideas are easy to make, delicious and kid-friendly.
Tomato And Artichoke
This wonderfully flavoursome tomato sauce incorporates artichokes, capers, garlic and creamy butterbeans to create a delicious cacophony of complementary textures and flavours. It's also packed with nutrients and protein – a win-win! Pair this sauce with fusilli pasta.
Creamy Vegan Chicken And Mushroom
If you're a fan of mock meats, this one's for you! This sauce combines sauteed mushrooms and vegan chicken in a silky white wine and vegan cream sauce. Add a few sprigs of fresh tarragon, and you can't beat this recipe! We suggest using THIS chicken pieces: you won't believe they're 100% vegan! Bowtie pasta (farfalle) is the perfect partner for this sauce.
Vegan Pesto
This fresh vegan pesto recipe is to die for! Beautifully fragrant and tangy, it consists of fresh ingredients such as basil leaves, lemon juice and garlic. After trying this, you'll never want to buy pesto in a jar again! We suggest pairing this sauce with green trottole pasta: its curled shape helps it carry sauce for that perfect pesto-to-pasta ratio!
If there's one thing that's tastier than fresh pasta, it's stuffed fresh pasta! If you're tired of preparing and eating the same old pasta dish all the time, you've got to try your hand at making these recipes, using your homemade fresh pasta, of course!
Ricotta And Spinach Cannelloni
This dish is similar to lasagne in terms of its main components: tomato sauce, bechamel sauce, pasta and cheese. The difference lies in how it is assembled – instead of layering sheets of pasta between layers of sauce and cheese, this dish requires a ricotta and spinach filling to be piped into hollow cannelloni shells before these are smothered in sauce and baked. If you enjoy this homemade stuffed pasta recipe, you'll love our calzone pizza in Milton Keynes, which is essentially a stuffed pizza!
Mushroom Ravioli
When it comes to stuffed pasta, one of the first things that comes to mind is ravioli, a dish that consists of small pasta 'parcels' stuffed with a filling. If you've had ravioli before, there's a good chance that it was canned or store-bought, which simply won't compare to fresh ravioli. If you'd like to try your hand at making this dish, this recipe for mushroom ravioli in a creamy sauce is a great place to start.
If both of these stuffed pasta recipes sound appealing to you, you'll love the Murati's truffle & mushroom ravioli, which consists of spinach and ricotta ravioli in a creamy mushroom and truffle sauce.
Simple Pasta Recipes You Can Make At Home
We hope that you enjoyed our delicious fresh pasta recipes and are excited to try your hand at making your own pasta. However, if you'd rather sit back and let the professionals take over, why not come and check out one of our Italian restaurants in Milton Keynes? Not only is our food authentically Italian, but we also make it fresh from scratch each day. Besides pasta, we also serve a mouth-watering range of pizzas, seafood and grilled dishes. If you're after more tasty recipe inspiration, feel free to check out our previous article, which offers 12 scrumptious pizza topping ideas!
Ready To Book your Table?
Leave your details below, and we'll be in touch shortly!