Pizza is one of Italy's best creations; homely, tasty and versatile, pizza has been tried and tested for many years, and almost everywhere you go does it differently. If you've been wondering how to make pizza dough at home and are stuck on tailoring your recipe to any guests you have coming, don't fret because Murati's Pizzeria is here to help! With a host of knowledge, we can help you deliver the best pizza possible to impress your guests and leave them wanting more!
How To Make Pizza Dough: A Full Murati's Pizzeria Guide
We've become a go-to for pizza in Milton Keynes and are known for our traditionally Italian, thin crispy base. We have spent years perfecting our techniques, and now, we're ready to share with you our tastiest recipes, along with how to tailor your ingredients to special dietary requirements.
Wanting to try some of our fantastic pizzas? Visit one of our Italian restaurants in Milton Keynes for a night to remember! If you fancy trying one of our creations at home, our takeaway in Milton Keynes is also available to collect or deliver to your door.
Ready For Our Mouthwatering Italian Food?
Sign up for our newsletter for exclusive offers and more!
If you're in a hurry and need to whip up fabulous pizza dough quickly, it is always possible! These delicious recipes all bring something different to the table so that you can decide which one is perfect for you and what you want to serve. Not only are they all easy and can be made at home with limited hassle, but they are also absolutely mouth-watering and will leave you thinking about the pizza you had for days!
Italian Pizza Dough Recipe
This gorgeous Italian recipe consists of only 4 steps and takes 5 minutes to prep and make the dough with an additional 10 minutes for resting time, making this a brilliant way to save time when preparing for a social event that you are cooking for. It only includes 6 ingredients, most of which you probably have in your cupboards in your kitchen already. These include:
400g plain flour
One 7g sachet of fast-action dried yeast
1 tsp fine sea salt
1 tsp caster sugar
2 tbsp olive oil
Water
First, to make the dough, mix the flour, yeast, salt and sugar into a mixing bowl and make a well, or dip, in the centre. To bring together the dough, add the oil and 225ml of water into the well and knead the mixture on a floured surface. The mixture must be thoroughly combined, as too much oil but not enough kneading will make your dough too sticky and impossible to roll out.
After, put the dough in a bowl and cover it with clingfilm and a kitchen towel; leave the mixture to the side for 10 minutes before adding the rest of the steps to making a pizza. And that's it! Quick and easy with little fuss, this recipe tastes delicious and leaves you relaxed before guests arrive.
To see the rest of this recipe, take a look at this article by Sainsbury's.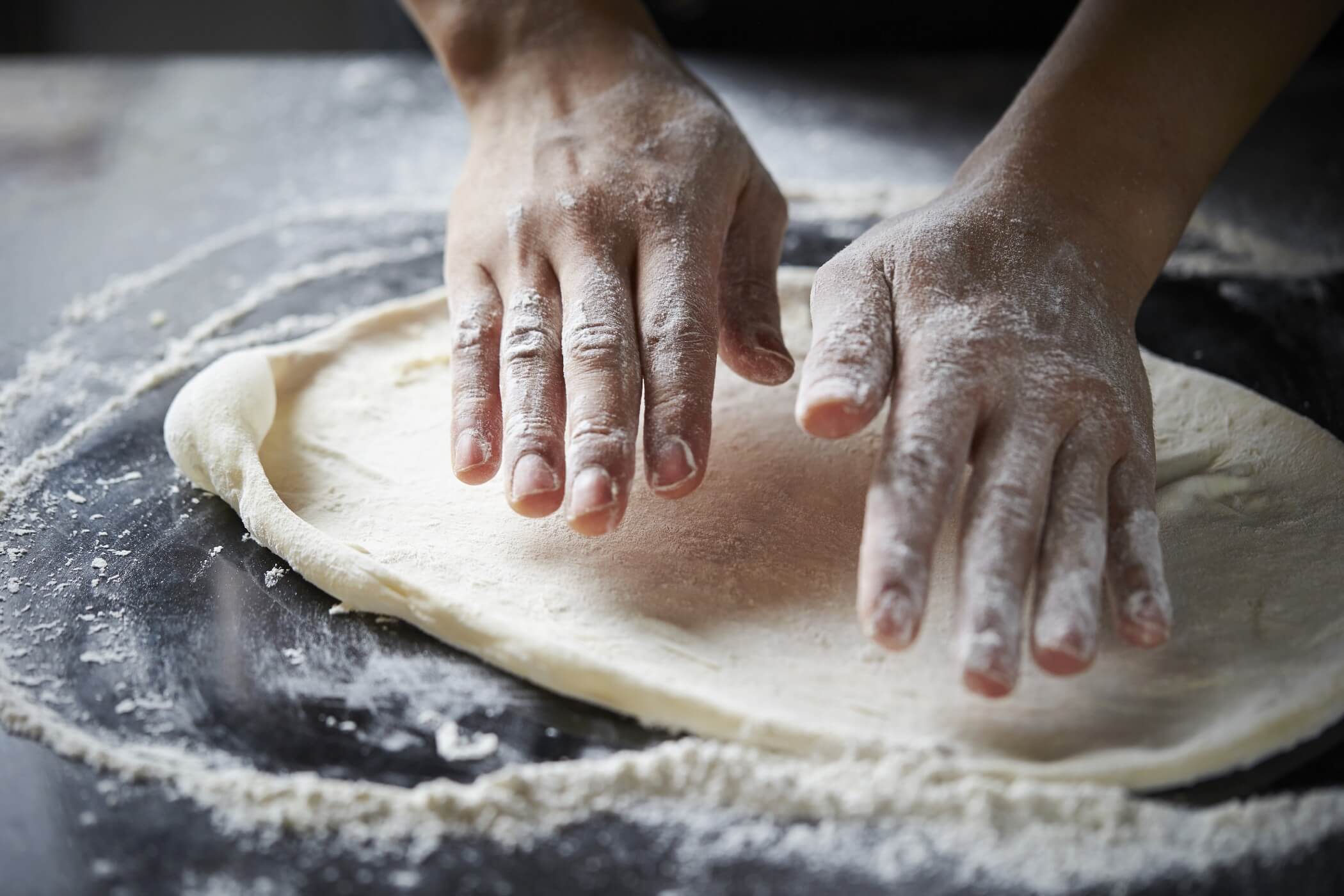 Neapolitan Pizza Dough Recipe
Originally from Naples and most delicious when homemade, Neopolitan pizza is an authentic and incredibly tasty pizza with only a few toppings. Its thin crust puffs up when cooked, providing a light and airy texture that is charred around the dough's edges after cooking, creating the perfect mix of taste and texture.
The difference between Neopolitan and traditional pizza dough is that you start with the wet ingredients and then move on to the dry. It only requires four ingredients: salt, olive oil, 1kg Tipo 00 flour and one 7g sachet of dried yeast.
This method by Jamie Oliver is one of the best and most flavorful. While it does require more prep and proofing time, it's absolutely worth that little extra dedication!
Gluten-free pizza dough recipe
No one should miss out on the gloriously crispy, flavour-packed goodness of pizza, which is why we're bringing you a super easy gluten-free dough alternative. And trust us, it is possible for pizza to be just as tasty without flour!
The best way to make your pizza dough gluten-free is by substituting the usual flour for gluten-free bread flour! This is easy to find in shops and is more than capable of making a perfect pizza. It can be harder to roll out this dough as the gluten-free flour is less stretchy, so we recommend stretching it to shape instead to make it easier. Apart from this slight change, the other ingredients tend to be the same!
It is a lot easier nowadays to find and request gluten-free meals; our restaurants in Milton Keynes is no different! All of our meals are made from scratch, so if you need any dietary requirements, including making a meal gluten-free, our experts will be able to do this for you! This allows us to tailor our recipes to your taste, leaving you and your stomach satisfied when you leave us.
Pizza dough recipe without yeast
Making your pizza dough yeast free can be done in multiple ways, including using baking powder or baking soda and acid instead of yeast. Many people believe that a no-yeast pizza tastes, looks and feels different to regular pizzas; however, this is not the case. If you use the correct amount of baking powder to flour and salt, you will be able to replicate the same fluffy and crispy crust and dough that usual pizza has. Another advantage of no yeast dough is that you don't have to let it rise! This means that it is a quick and easy recipe that doesn't require lots of time and effort, perfect for when you're tackling multiple things at once when prepping for guests to come over.
Sourdough pizza dough recipe
Sourdough pizza is incredibly fluffy and bouncy, giving you the best crunch and crispiness. The only downside is that sourdough takes longer to rise and prove, so if you want to make this recipe, keep in mind it may not be the quickest if you have limited time.
When making a sourdough pizza, make sure you use a sourdough starter as if you were just making a sourdough loaf of bread; otherwise, it'll just be like any other pizza type! A sourdough starter is very easy to make as it only involves 2 ingredients: all-purpose flour and warm water. However, it does take a couple of hours for the bread to develop yeast and bacteria, which makes it have that sour taste and bubbles that we all know and love!
This is an easy and helpful recipe for a sourdough starter by ooni!
Kneading the dough is one of the most important steps to making pizza dough! This is because it makes the dough much stronger and stretchier and helps shape it into whatever shape you want without tearing it.
Many people prefer and recommend kneading by hand as it is a technique that seems difficult at first but is quite easy! Don't worry about the messiness, as you're able to clean your hands so easily, and the dough comes off well.
Flour your surface well, so you don't have your dough sticking to the surface or your hands. Ensure you knead the dough by the heel of your hand and press down hard with it. Gather the dough and repeat these actions as much as you need until you feel your dough is strong and smooth enough. If the dough holds its shape and doesn't sag when you hold it up after kneading it, this is a sign of a well-kneaded dough!
After making your dough, layer on whatever toppings your heart desires – take a look at our previous article for the best pizza topping ideas!
Pizzas can be cooked in many different ways, but each will still get you that same airy, crispy and delicious pizza everyone knows. Some of the most popular include:
An Oven: One of the easiest and most common home ways to cook a pizza!
Stovetop: Cast iron pans are the most popular option for when cooking a stovetop pizza.
Pizza Oven: This type of oven is for people that take pizza very seriously, like us! They cook the pizza as quickly as possible; however, expect some practice runs before you get the hand of using this method.
Barbecue: This is a brilliant way to cook a pizza at home and still get the same taste and look that a pizza oven offers.
Make sure to visit one of our restaurants in Milton Keynes to try the best pizza in Milton Keynes there is!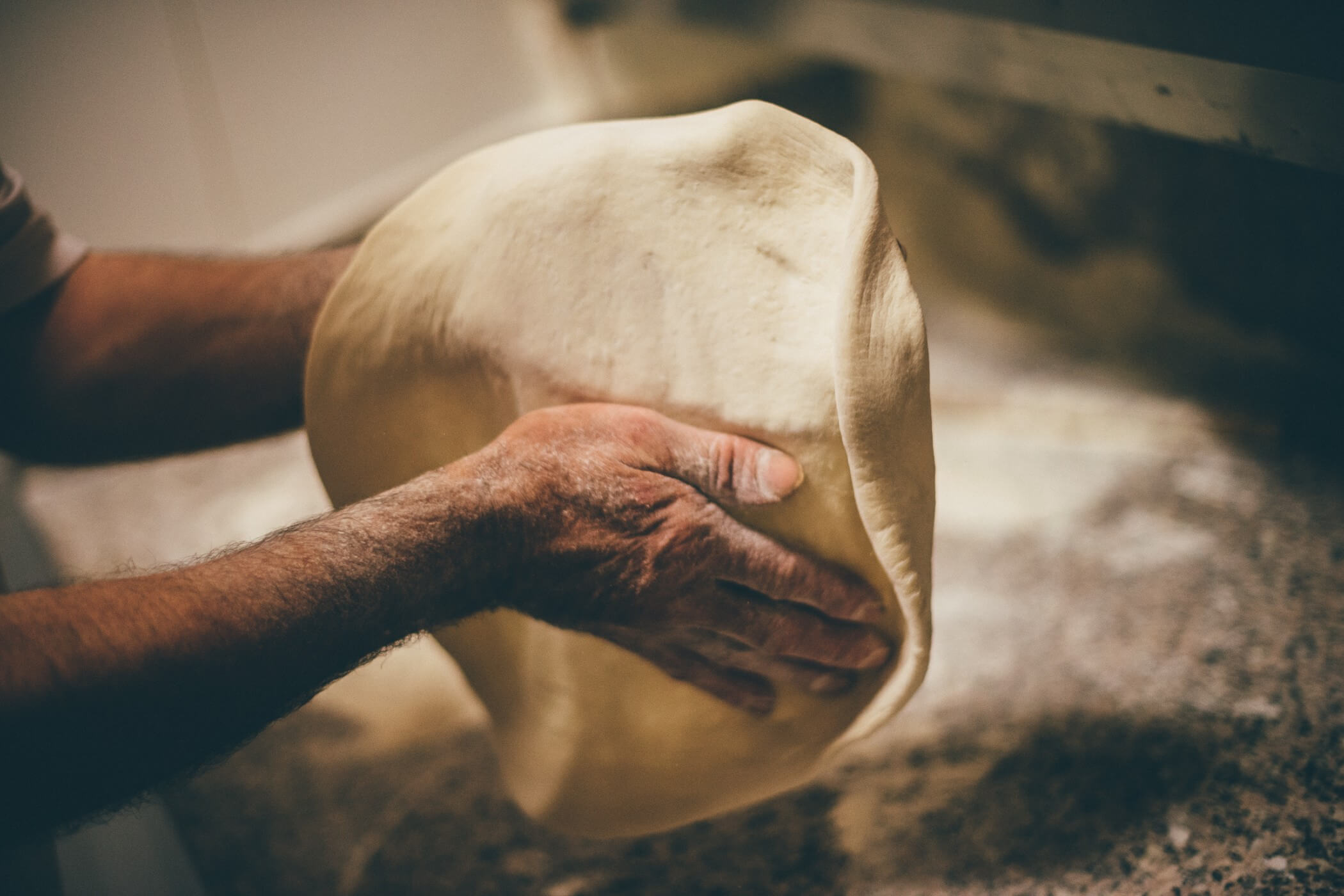 Delicious Pizza For All!
Now that you know all about the different types of pizza dough that there is to make and how to make them, you can get started on your preparation for your social event or even if you just want to have a go at home for yourself. It can be daunting to start a pizza and get it right; however, we are always here to help!
If you don't fancy being in the kitchen, then order our takeaway in Milton Keynes to enjoy our mouth-watering food in the comfort of your own home! Or, visit our Italian restaurant in Milton Keynes to experience our fabulous atmosphere and tastebud-tingling food! Your stomach will definitely be pleased with you for it!
Why Not Book A Table?
Submit your enquiry here, and we'll be in touch!