If you've ever visited any of our fabulous restaurants in Milton Keynes, you'll know that we adore freshly prepared seafood pasta. From our lobster linguini to our king prawn and chorizo risotto, nothing quite compares to pasta topped with flavoursome seafood and dressed in a rich sauce.
So, whether your New Year's resolution is to perfect your culinary skills or you are looking for the perfect recipe for your next get-together, we have you covered. Discover six of our favourite seafood pasta recipes – they're real crowd-pleasers!
You Will Love These Seafood Pasta Recipes!
The beauty of cooking with seafood is that it infuses any dish with vibrant flavours meaning that you can keep your remaining ingredients simple – perfect for those who are new to the kitchen or short on time. Our recipes below couldn't be easier to prepare yet taste delicious, so let's take a closer look at the following:
Hungry For More?
Join our mailing list for exclusive discounts, new recipes and much more – you don't want to miss this!
If you're going to choose a salmon pasta recipe to impress your guests, then you absolutely must opt for one with a rich, creamy sauce. There is something truly special about a salmon and cream sauce pairing – it just oozes indulgence.
The secret to perfecting this dish is ensuring that your salmon is beautifully cooked, and you'll be pleased to know that it's not as tedious as many assume. Simply drizzle your salmon with oil and roast on a baking tray for around 12 minutes. You can spot when the salmon is cooked by gently pressing the flesh – when it starts to flake, it's ready.
And now, we move on to the sauce. Create your foundation by frying shallots and garlic before adding white wine and allowing it to reduce. Bring to a simmer, add your double cream and season to taste.
Both your salmon and sauce can then be combined with your pasta – both penne and spaghetti work well, so it's totally your choice. You can find more tips on how to recreate this tasty dish over on BBC Good Food!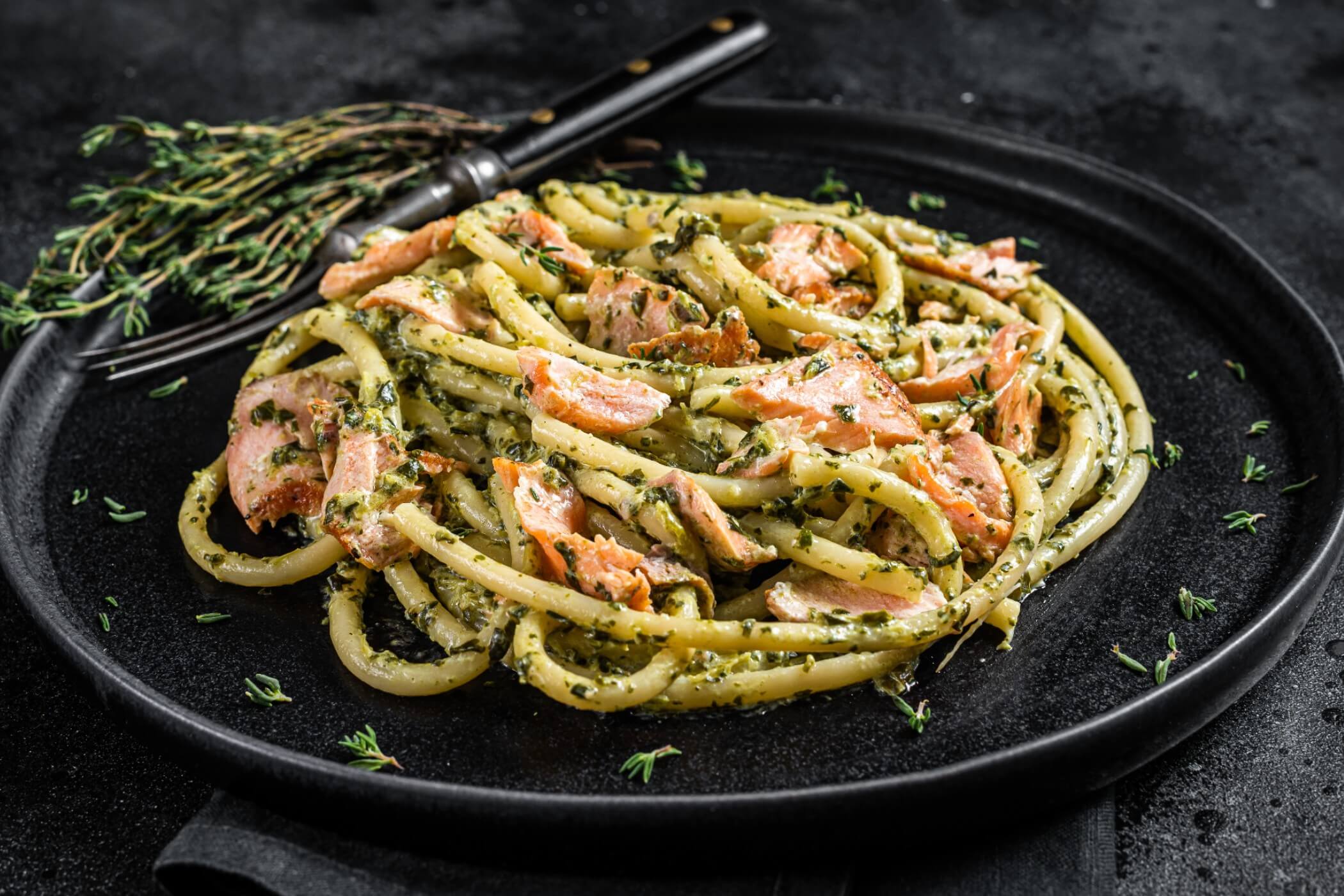 For those who want to delve deeper into the world of seafood but looking for a slightly less "fishy" flavour, you cannot go wrong with crab. Fresh and tender with a glorious hint of sweetness, crab makes the perfect base for any dish and requires very few ingredients to intensify the flavour – what more could you ask for?
Most crab pasta recipes will use linguine as it's known for carrying more flavour in each bite, perfect when you're keeping your ingredients minimal but still want to pack a punch. We love the super easy yet flavoursome crab linguine recipe by Rick Stein on the Delicious website, which balances the sweetness of the crab with a subtle kick of heat. Tomatoes create the base of the sauce, which is then combined with lemon juice, garlic, chilli flakes and olive oil.
Although this recipe is mouth-watering as it is, you can add a little extra richness by stirring parmesan cheese into your pasta just before serving!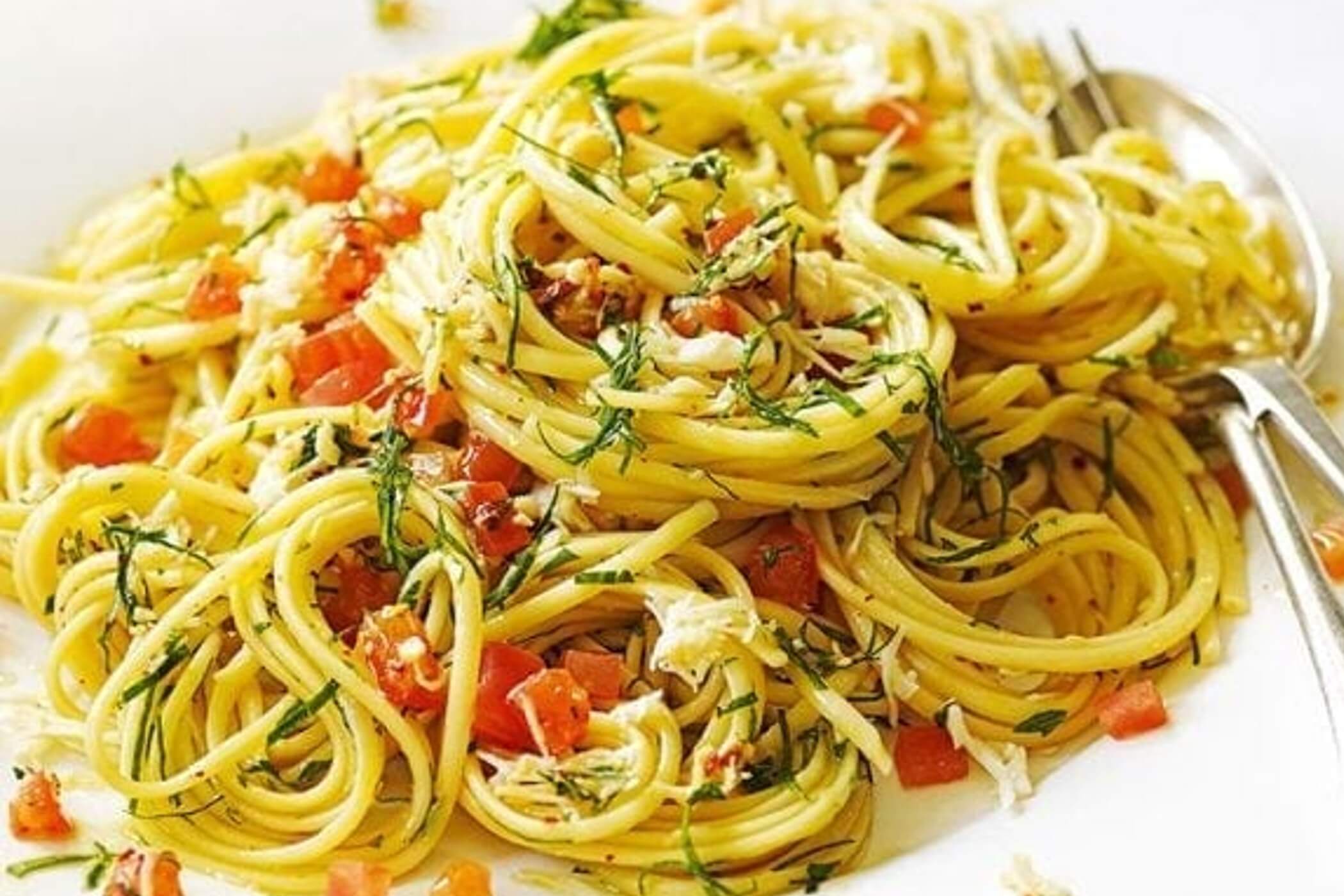 Photo Credit: Delicious Magazine
With the perfect balance of sweet and salty, prawns are, by far, one of the most popular types of seafood – and we can most definitely see why! Their meaty flavour also makes them a fantastic option if you are or are planning to become vegetarian, and the versatility means that you can tailor dishes to your tastebuds. So, rather than delving into a single prawn pasta recipe, we're going to run through the different combinations of ingredients you can experiment with.
Prawn & Chorizo: Most commonly featured on Spanish tapas menus, prawn and chorizo are a winning pairing. The smokiness of the chorizo works perfectly with the sweet tenderness of prawns. At our Italian restaurants in Milton Keynes, we serve a delicious prawn and chorizo risotto, complete with onion, garlic and parmesan – it's a must-try!
Prawn & Harissa: If you've yet to cook with harissa, then make this your next culinary mission. Slightly sweet and tangy with a kick of heat, harissa can be used to marinade your prawns or as a base for your pasta sauce. Check out this recipe by Minimalist Baker for full instructions on how to make your own harissa paste.
Prawn & Lemon: When it comes to finding a staple ingredient to complement seafood, nothing quite compares to lemon. Promised to brighten the natural flavour of prawns, cooking your prawns in lemon juice and zest is not only delicious but also a far healthier option.
Prawn & Pesto: For a richer, more indulgent ingredient, you cannot go wrong with pesto. Whether you try your hand at making your own pesto or purchase a jar from the supermarket, adding a few tablespoons of this wonderfully flavoursome sauce to your next prawn pasta dish is guaranteed to go down a storm with your guests.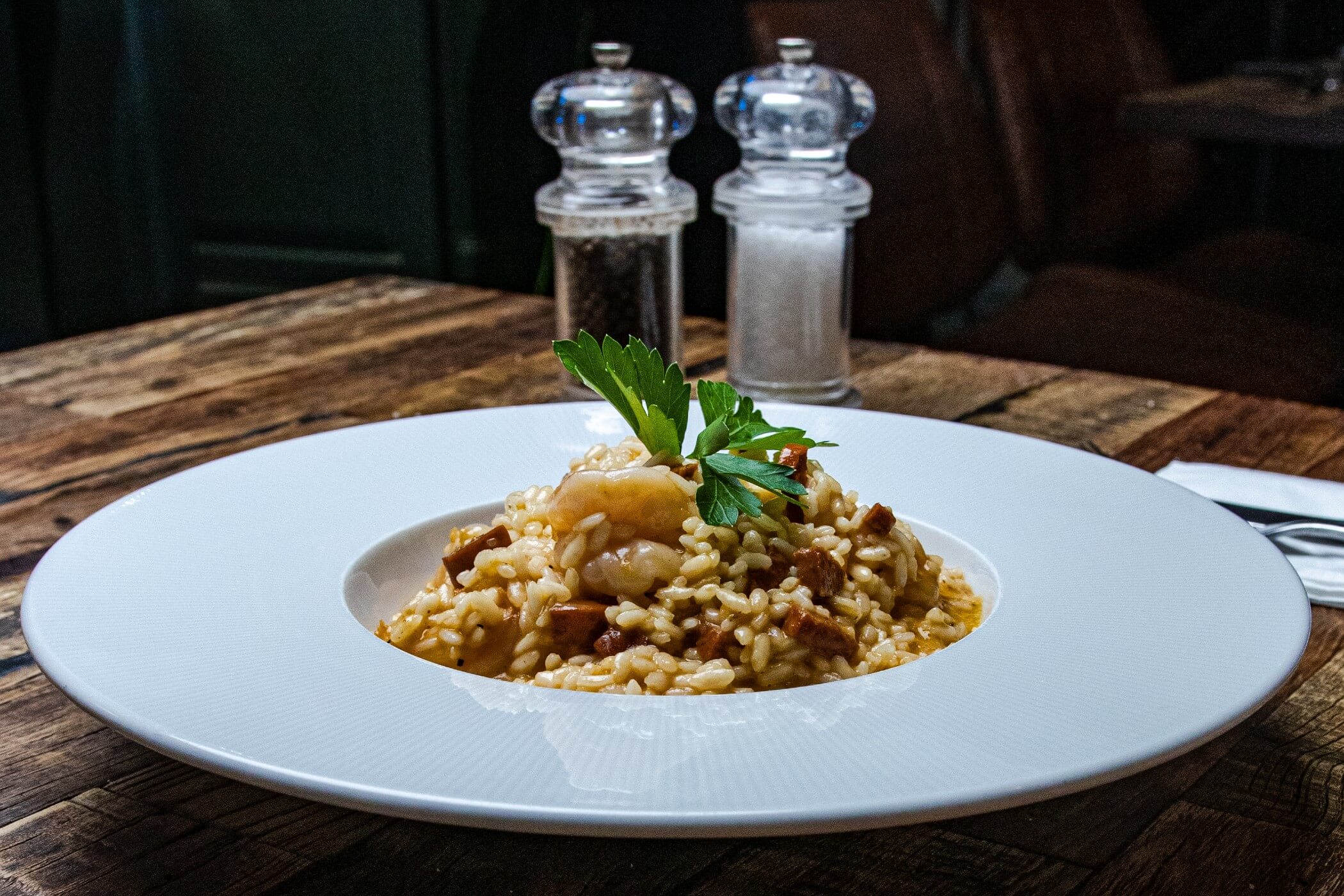 Love the look of this dish? Try our king prawn and chorizo risotto at one of our restaurants in Milton Keynes!
And now, we move on to one of our absolute favourites, lobster pasta. Our lobster linguine has become a staple at Murati's – perfectly cooked pasta complete with lobster, prawns, cherry tomatoes and garlic dressed in a white wine and tomato sauce. But how can you recreate your own version of lobster pasta from home? It all comes down to the preparation!
The prospect of cooking a lobster can be daunting, but you would be surprised how straightforward the process is. Boiling the lobster is, by far, the quickest and easiest method, taking less than 10 minutes to cook. Simply bring a large pot of salted water to boil (choose a pot with a tight lid), add your lobster, cover with the lid and steam until the shell is bright red. This usually takes no longer than 8 minutes; then, you can remove the lobster from the water and leave it until it is cool enough to handle. Head over to Great British Chefs for your next steps on how to remove meat from a lobster, including a handy video tutorial!
From here, it's time to start thinking about the sauce for your pasta dish. While we love the freshness of our garlicky tomato concoction, a creamy sauce with paprika and parmesan is also delicious. If you love a hint of heat, you could even add a dash of chilli flakes – the choice is yours!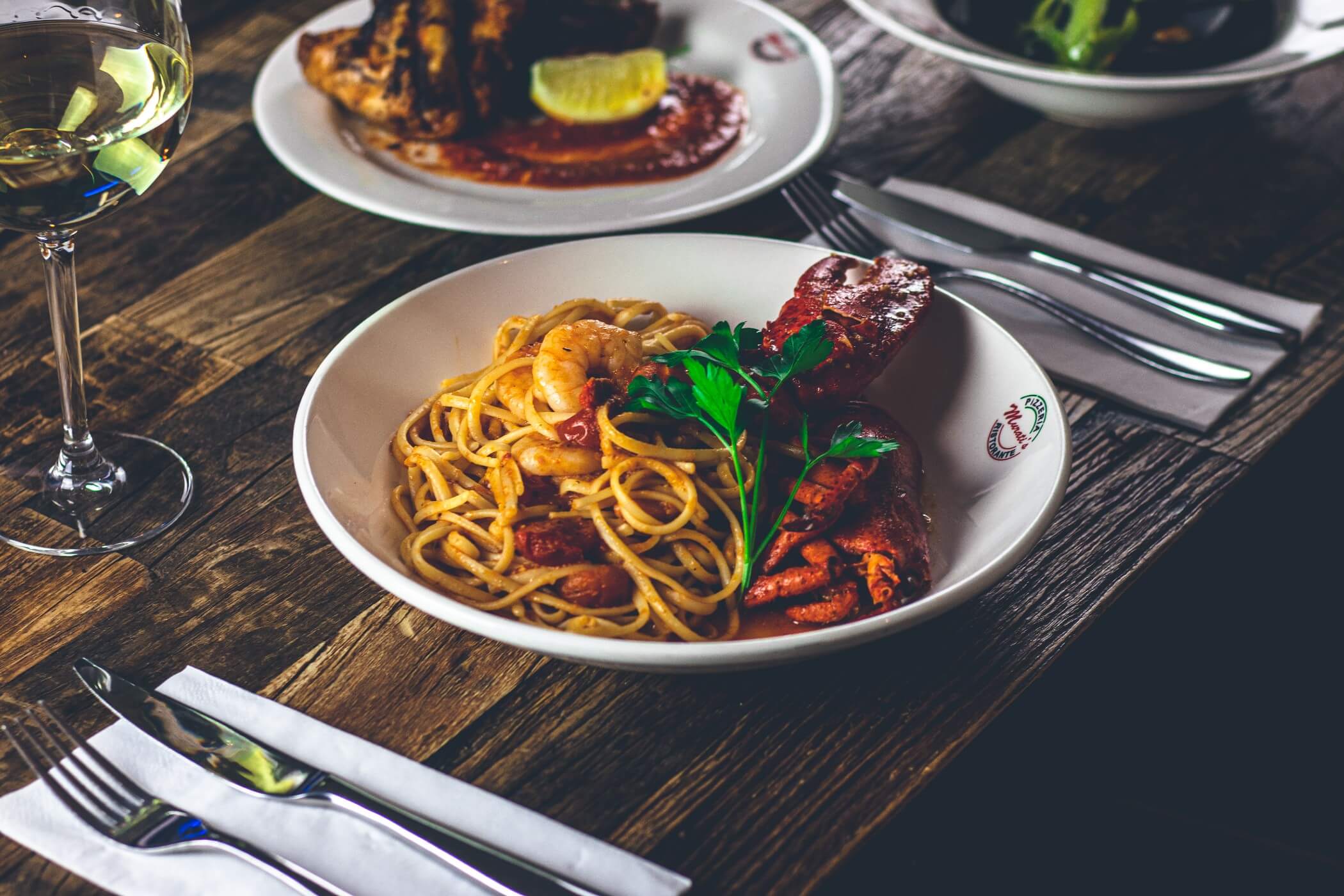 Mouth-watering at the look of this dish? Try our much-loved lobster linguine at one of our restaurants or from the comfort of your home through our takeaway in Milton Keynes!
What is better than freshly cooked mussels? It absolutely has to be mussels with rich tomato and garlic pasta! With a subtle natural flavour and a slight mushroom taste, the beauty of mussels is that they can be cooked in your sauce to allow the flavours to infuse your seafood, creating a super indulgent dish.
As with any seafood, your preparations will take a little extra TLC. Your mussels will need to be thoroughly cleaned in cold water to remove any salt and grit – because they are fresh from the sea, of course! Once the shell is sparkling, all you will need to do is remove the beard (the fibres that you'll notice sprouting from the shell), and you are ready to begin preparing your pasta sauce.
We love the mussel pasta recipe featured below by Chef Jack Ovens. With an onion, garlic, chilli, tomato and parsley base, this sauce is gloriously fragrant and will perfectly complement a whole host of seafood. While the mussels are removed from their shell and incorporated into the pasta, don't forget to leave a few whole for decoration – it's the perfect finishing touch!
We finish our guide to the tastiest recipes with a dish for the ultimate seafood lover. If it's simply impossible to choose your favourite seafood, then why not combine them all to construct the pasta creation of your dreams? Whether you adore a rich, creamy sauce or are looking for bright, fresh ingredients to delicately coat your pasta, it couldn't be easier to experiment with flavours to create a dish unique to your tastebuds.
When creating your seafood dish, we recommend opting for linguine or spaghetti as your pasta of choice. The long ribbons of pasta will allow you to collect a beautiful fusion of all of your ingredients in every bite. Prawns, mussels, scallops and squid are the most commonly combined types of seafood, as they will all remain whole during the cooking process. Although salmon may taste delicious, it's likely to break down and become lost in the different flavours.
You can find a fabulous Italian-style recipe by Vincenzo's Plate below:
Which Recipe Will You Try Next?
If you're anything like us, we can be sure that your stomach is now rumbling at the thought of these delicious seafood pasta recipes. We hope that you're feeling inspired to head into the kitchen and get started on your culinary creation. Don't forget that you can always find a host more recipes on our blog page, including our top homemade pasta recipes, from traditional pasta to gluten-free alternatives!
As always, if you want to leave the hard work to the chefs, Murati's is here to satisfy your pasta cravings. With a freshly prepared menu cooked with love from scratch, we're confident you'll find a dish to suit your tastebuds. Contact us to book a table or submit your information via the form below – we look forward to welcoming you through our doors!
Ready To Book a Table?
Submit your enquiry here, and we'll be in touch!