At our Italian restaurants in Milton Keynes, we love risotto; it's a warm, homely dish that always thrills tastebuds with its delectable flavour! We must admit, it's one of our favoured recipes to take home and cook ourselves, meaning you can too, with our 7 easy risotto recipes. Whether you're serving dishes for friends and family or cooking for yourself, risotto is an effortless, fun and tasty dish you can enjoy any day of the week!
The Best Easy Risotto Recipes
Our professional chefs at our restaurant in Newport Pagnell have perfected the art of cooking authentic Italian food, especially risotto, because of its versatility and simple ingredients. It's a dish we have enjoyed for many years – it's easy to be drawn in by its delicious smell and taste. With our fabulous recipes, we can be sure you'll be reminiscing the velvety texture and flavour for days!
Need Some More Tasty Inspiration?
Join our mailing list for exclusive discounts, new recipes and inspiration and much more!
Risotto is a creamy, delectable dish, perfect for any occasion, whether you're going out and trying our perfect risotto recipe at our restaurant in Daventry or staying in, cooking it yourself and then curling up on the sofa to enjoy the heavenly taste.
The Italian dish consists of short-grain rice cooked very slowly whilst adding small amounts of liquid, typically broth, which allows the rice to release the starch and create a rich, creamy sauce that coats the rice and turns it into a soft, velvety dish! We recommend eating the risotto when it's hot as the starches start to set as the meal cools, which rids you of the gooeyness you just created.
You can use regular rice for this dish, such as long-grain (basmati, white rice); however, our chefs recommend you use short-grain arborio rice as this makes for a richer, starchier risotto.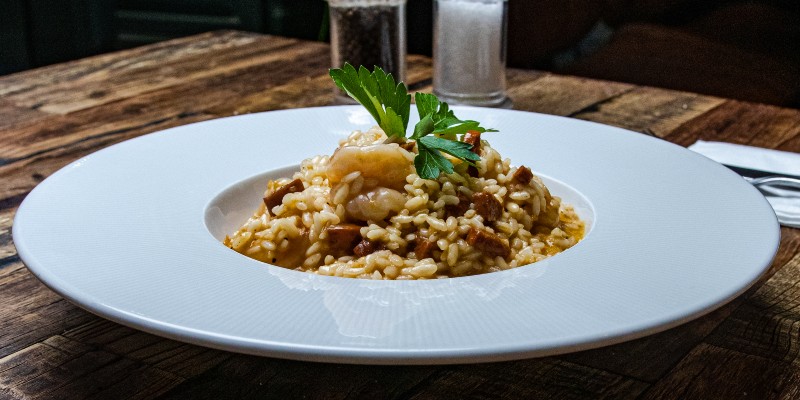 Risotto is renowned for how easy of a meal it is to cook, however; it can take upwards of 20 minutes and does require attention.
For the most simple recipe and basic yet still just as tasty risotto, start by heating your stock to a simmer over medium heat. When it simmers, reduce your heat to low, so it stays hot as you cook the risotto.
Next, in another pan, add some oil and 1 tablespoon of butter over medium heat. When this heats up and melts, add some chopped-up onions and sauté until they are slightly sheer. Start adding the rice to the pot with the onions and mix until it is coated in the buttery goodness. Heat for another minute, then add a ladle of the stock to the rice and occasionally stir until it has been fully absorbed.
When absorbed, add another ladle of the stock and keep repeating until the rice is al dente. You can stir in 2 tablespoons more butter to maximise its butteriness and velvetiness, add some cheese and season to taste with salt and pepper.
There you have it, a freshly prepared, easy risotto recipe that you can make several times a week and not get tired of!
From here, you can start to make this dish your own and create your own recipes, such as adding some veg or chicken; this means you can serve this delicious dish and stun your friends and family! We have compiled some of our absolute favourites to award you some inspiration; these include:
1. Chicken Risotto Recipe
Chicken risotto is one of the best and easiest ways to spice up your risotto and create a mouthwatering meal; the textures complement each other excellently and make one dish of tender, warm, filling goodness.
All you have to do differently to the basic risotto recipe is sear your chicken all over until it is lightly golden, then add your rice and stir in your stock! For a vegetarian alternative, how about adding in some fried tofu, which is just as delicious!
Simple and inviting, this recipe will wow you and your guests; however, if you don't fancy cooking this meal at home, visit our restaurant in Newport Pagnell and try our chicken and mushroom risotto for a night filled with flavour and fun!
2. Seafood Risotto Recipe
To take your risotto from 100 to 1000, we recommend adding some seafood to it; this creates a perfect textured meal that screams Italy! Our favourites include adding seafood such as mussels, prawns and squid, as these go well with almost any dish – you can also add some cherry tomatoes and wine for a fancy heavenly feast.
For this recipe, start by making a traditional basic risotto; then, when the rice has become almost cooked yet not all the way, add in the seafood and tomatoes and wait until the mussels open and the prawns turn pink, continue adding more stock even at this step to keep your risotto as best as it can be!
Olive has an amazing recipe that is so easy to follow!
3. Mushroom Risotto Recipe
This vegetarian risotto dish is just as filling, scrumptious and easy as our previous recipes. You can use any type of mushrooms, and all you have to do is add some olive oil to a pan over medium heat, toss in your mushrooms and cook them until they're soft and brown.
Make your risotto the easy way and then in the few minutes of the risotto cooking, add in your mushrooms and stir them in. Decorate with parmesan cheese and chives then you're good to go; this perfect creamy meal is made in 20 minutes!
Suppose you want to add some protein or meat to this dish; in that case, we love serving our gorgeous mushroom risotto with a garlic herb butter roasted chicken that will instantly melt in your mouth, some salmon with some sweet, bright dill or even tender roast beef. For a healthier or vegetarian option, side the meal with some crunchy green beans or soft steamed veg that your stomach will definitely thank you for!
4. Pea Risotto Recipe
For a healthy, colourful twist on your typical risotto, how about trying this pea risotto recipe that will leave your tastebuds needing more? You only need to put peas and some spinach into a food processor with a ladle of your risotto stock and whizz them up until puréed.
Cook your standard risotto on the side, add in your pea purée and some remaining peas for some texture, and then you're done. It's a healthy, enjoyable and delicious dish easily prepared in no time at all; impressive, right?
Our tasty pea risotto is perfect along with other ingredients, such as some golden, soft pan-seared scallops and scrumptious honey-roasted carrots, making it an amazingly healthy must-try for you when you're cooking at home and even for the family that will leave you all content!
5. Chorizo Risotto Recipe
To spice up your risotto and turn it into a creamy, hot, tantalising meal, why not add some chorizo? This sausage is just as good on its own as it is with almost any other component, such as chicken or seafood; it's an easy way to take your risotto up to the top!
Fry your chorizo over medium heat in some olive oil and cook your risotto on the side; when it is almost done cooking, add in your chorizo and stir in well. Combine all the flavours and spices into one, so every bite you take is just as good as the last.
If you aren't looking to cook at home, our Italian restaurants in Milton Keynes serve our delectable king prawn and chorizo risotto that will leave you craving it for weeks after!
6. Asparagus Risotto Recipe
If you're in need of a simple yet tasty meal that warms your stomach and twists your tastebuds, how about trying this asparagus recipe that is guaranteed to amaze all of your guests?
This satisfying and irresistible take on risotto is a subtle yet beautiful meal that can be cooked quickly and easily. For your asparagus, chop off the stalks and put them into a pan with the risotto stock; put them on low heat and wait for them to simmer gently. When they are softer, scoop them out and set them aside.
Cut off the asparagus tips and chop the rest; fry the remaining chopped pieces in some olive oil. You can now start cooking your risotto; remember to slowly add your stock ladle by ladle until your creamy, rich risotto has formed.
When it is cooked with a slight bite to it, you can stir in your chopped asparagus and cook for another minute; top with the asparagus tips, some butter and season to taste. For some extra crunch and texture, we love topping asparagus risotto with nuts such as pistachios and almonds. Your asparagus risotto is finished, made and served with love!
7. Pumpkin Risotto Recipe
Pumpkin is a sweet, flavourful fruit that sweetens and enriches your risotto even more! The orange colour produced when you cook this meal is gorgeous and makes the dish as compelling as possible. If you can't get your hands on a pumpkin, butternut squash is an amazing alternative and just as delicious.
Start off by peeling and de-seeding the pumpkin and dice it into small pieces; add this to some fried onion in a pan with olive oil until it softens, and mash the pumpkin into a purée.
Suppose you don't want to incorporate the pumpkin too much into the risotto. In that case, feel free to chop up some pumpkin and add it to the pot that you are cooking your risotto in. This will leave you with some texture and beautiful spots of colour whilst also mixing the complementary flavours perfectly.
On top of this, you can start cooking your risotto once all the stock has been absorbed, and you're left with a rich, creamy dish. Stir in some seasoning, such as nutmeg or pepper and grate in some parmesan. Add some leftover chopped-up pumpkin on top for some garnish and texture. You'll be left with a beautiful, tempting meal that will leave your stomach happy for days!
BBC Good Food has an amazing recipe that is easy to follow and perfect for the family.
Risotto is already a filling, yet not a heavy meal, so you may want some extra sides to perfect your banquet and impress your guests.
We recommend serving risotto with a light salad that fills that extra space in your stomach. Because risotto is a grain-based meal, combining it with greenery makes for a healthy, complete meal that satisfies your cravings – or even some homemade, warm, crusty garlic bread to soak up the leftover liquid at the bottom of your bowl!
Roasted vegetables are also gorgeous with risotto for some extra textures that complement each other amazingly. For some extra protein, we recommend adding a fried or poached egg on top of the risotto – the runny yolk will add to the gorgeous creaminess of the risotto; it's a must-try!
For some more of our favourite side dishes, perfect with any meal, take a look at our previous article!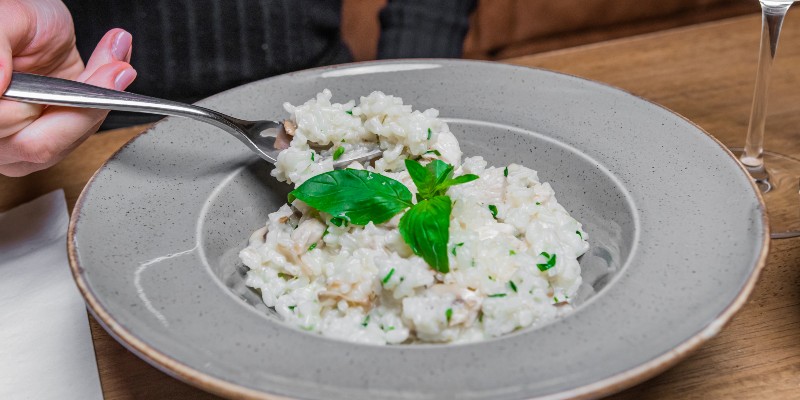 All Of Our Favourite Recipes In One Place
Hopefully, your stomach is longing for our creamy, decadent risotto just like ours is, have a go at cooking one of our recipes and thinking of ways to suit your favourite tastes every time you make one! These easy recipes will be all you're thinking about from now however; if you don't want to cook, then pay us a visit at one of our Italian restaurants in Milton Keynes and try our gorgeous, fresh risotto for yourself!
For some more inspiration from our professional chefs, take a look at our blog page, or contact us to book a table – we can't wait to see you!
Wanting To Book a Table?
Submit your question here, and we'll contact you!