For a quick, delectable and easy recipe, carbonara is the way to go! At our Italian restaurants in Milton Keynes, we love indulging in this tasty, creamy dish, perfect for those days when you're craving comfort food.
Whether you love cooking at home or want to try our delicious carbonara at one of our restaurants in Milton Keynes, this guide gives you all the tips and tricks you need to know – you can thank us later!
How To Make Spaghetti Carbonara: A Murati's Guide
Our specialist chefs, over the years, have perfected their expertise in Italian foods; they know all the secrets to take our dishes from 10 to 100, and they are always happy to share their experience and knowledge with you!
Suppose you aren't feeling like making our special carbonara yourself. In that case, you're always welcome to stop by our restaurants in Milton Keynes or order our dish with our takeaway in Newport Pagnell and enjoy its rich flavours from the comfort of your own home.
Want More Mouthwatering Inspiration?
Join our mailing list for exclusive discounts, new recipes and inspiration and much more!
Carbonara is a traditional Italian dish made for generations in different ways and with various additions. The authentic recipe tends to use eggs, cheese, spaghetti, black pepper and guanciale; however, if you want or need to alter these ingredients to fit your particular taste or dietary needs or just because you want to experiment, carbonara is incredibly versatile. Almost anything you do with it will result in a decadent creamy heaven, no matter how you make it! Some of our favourite recipes to suit your needs include:
How To Make Carbonara Sauce Without Cream
If you are looking for a super speedy, creamless, yet still delectable carbonara, this recipe is bound to make you smile! The traditional recipe is to include eggs into your carbonara; however, some may switch these for cream; if you want to stick to the roots, then adding eggs is the best way to go.
For this recipe, follow the following steps:
The first step is to cook your spaghetti in a large saucepan how you normally would then drain it.
Crack your eggs into a small separate bowl and add the grated cheese to them; whisk either manually or with an electric whisk until it is all evenly and smoothly blended, then set aside. Some people enjoy only using the yolk for some extra creaminess and richness; however, you can use the whole egg!
Fry your pieces of bacon, then bring your spaghetti onto your frying pan with the bacon.
Drizzle with olive oil and lower the heat to the lowest setting or even turn it off; pour in your egg and cheese mixture and toss it through the pasta until everything is evenly coated in the mixture.
You can sprinkle with black pepper and salt for some extra flavour or even add extra cheese, serve the carbonara in bowls and enjoy!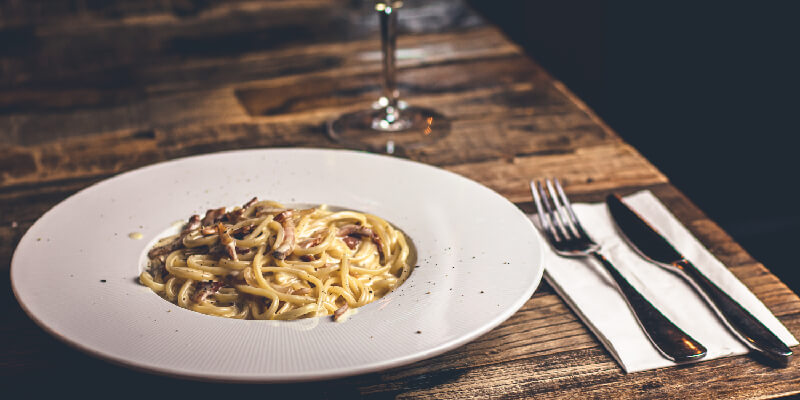 How To Make Vegan Carbonara
Although the primary ingredients of a carbonara are not vegan, there are many excellent and tasty ways to get around this; you can substitute all the ingredients for other vegan-friendly ones that will still leave you wanting more!
For this basic, vegan and heavenly dish, start by draining and cutting extra firm tofu pieces; this will be your substitute for the traditionally used bacon; you can even use mushrooms instead! Marinade the tofu in olive oil, paprika, granulated garlic, liquid smoke, and apple cider vinegar for 10 to 15 minutes.
Next, fry these on a nonstick pan over medium heat and let them brown and crisp up on all sides, enhancing the gorgeous texture and taste! Leave these to the side to get started on the actual carbonara.
Begin with whisking 0.47 litres of soy milk, 1.5 tbsp lemon juice, garlic cloves, 1.5 tsp apple cider vinegar, 1.5 tsp miso paste (as a substitute for this paste, you can use dijon mustard or tamari paste), 3 tbsps nutritional yeast, 1.5 tsp liquid smoke or smoked paprika and 1.5 tbsps cornstarch which will thicken up your sauce, whilst boiling your spaghetti.
Drain your pasta, then over low heat, add this mixture and cook until everything has transformed into a creamy, rich goodness. Lastly, toss in your tofu pieces and sprinkle with some pepper; give the dish one last stir, then plate up and tuck in!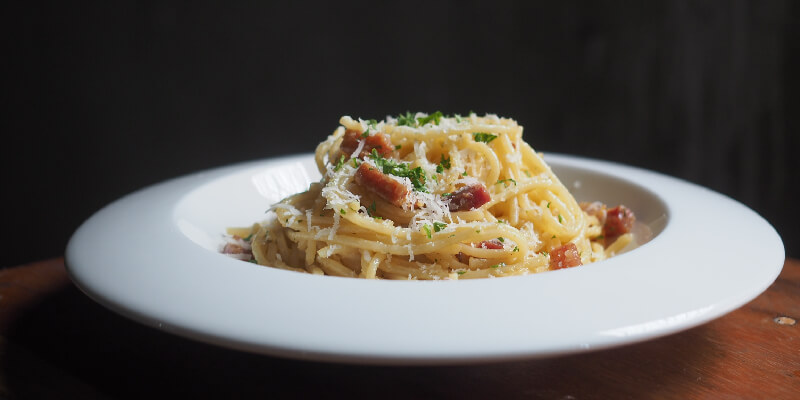 Spaghetti is one of the most renowned, enjoyed and versatile ingredients you can use daily in your cooking. Perfect in almost any meal, it is an essential and easy recipe, allowing you to make it any time for as little time as possible.
Firstly, fill a pan with about 3/4 of water, season it with a bit of salt and bring it to a boil. Add in your spaghetti at this point and ensure to stir it gently to ensure the strands are not stuck to each other or to the pan, as this will only increase the mess that is made. Check the pasta packaging for the exact cooking times; however, we recommend to start checking if the pasta is done a couple of minutes before the end of the range time on the packaging. Fish out a strand of the pasta, let it cool and then bite into it; if there is still a crunch to it, leave the pasta in the water for another minute or two. However, if the pasta feels springy, this is al dente and exactly how you want it! We love saving a ladle of pasta water just before it is done and then pouring this onto the pasta after you have drained it, which loosens up the strands more.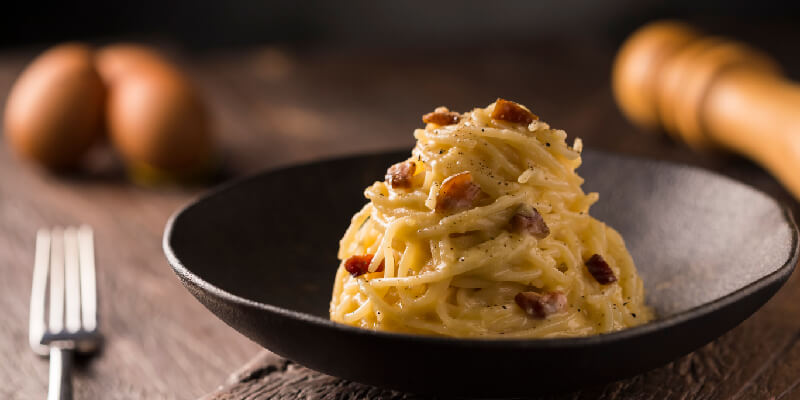 One of our favourite aspects of carbonara is just how versatile and adaptable the recipe is. You can indulge in an array of different choices and mix in different flavours, spices and ingredients that will boost the luxurious, creamy flavoursome meal that you are about to create! Why not incorporate some tender chicken and crunchy veg for texture or tangy chorizo for spice? Some of our top favourites include:
Seafood Carbonara
Perfect for pescetarians and vegetarians, this delicate and inviting recipe makes for a healthier and lighter version of our classic carbonara, which will have your mouth watering whenever you think of it!
We love including anchovies, fresh salmon, prawns or even crab in your dish to ultimately enhance its texture, flavour and taste. The steps are relatively basic; all you will need to do before following the typical carbonara recipe is cook your prawns in a pan with some oil, put them to one side when they are golden brown, and then sear your salmon until it is a flaky texture.
Cook the ingredients together on low heat for a few minutes; add your cooked spaghetti and sauce, and then you are good to go! For some more seafood pasta recipes, take a look at our previous article!
Chorizo Carbonara
For a tangy, spicy twist to your carbonara, why not opt for adding some smoky chorizo? We adore this idea as it ups the whole carbonara and adds some extra flavour, making it a genuinely delectable experience every time you cook it!
The only difference is frying your chorizo slices for about 4-5 minutes or until they start to crisp up, then add them to your cooked spaghetti and add in your sauce, and there you have it, finished in no time at all!
The flavours and textures in this dish complement each other perfectly; they boost each other's aspects up and create a beautiful, tempting meal that will leave your guests stunned and their stomachs satisfied! Take a look at this helpful recipe by Delicious.
Chicken Carbonara
Tender, succulent and zesty, this recipe is precisely what you need if you want to indulge in a hearty, heavenly, yet healthy meal! Ensure you season your chicken breast, such as with garlic, for extra consistency and herbiness; this will allow you to experiment with different flavours that acquire your taste and mix and match your desired preferences together!
For this recipe, the difference is you need to pan-sear and fry your chicken until both sides are cooked through, leaving it white and tender; then add these cooked pieces, slice them up and tip them into your cooked paste, then add in your sauce. You can also add in some crispy pancetta if you want some extra meatiness! BBC Good Food has a great recipe for you to easily follow.
Veggie Carbonara
This option is incredibly versatile; you can incorporate almost any of your favourite vegetables, no matter the sweetness, tanginess or texture; this option allows you to play and experiment with your different favourite flavours fully whilst creating a perfect, delicious meal every time! Our chef's favourites include:
Tangy Tomato And Crunchy Asparagus
Sweet Pumpkin
Roasted Courgettes And Soft Mushrooms
Ricotta Cheese And Peas
Fluffy Cauliflower And Broccoli
As these options leave your stomach longing for more, along with the easiness of the cooking process, they are all ideal recipes for you and your stomach to be kept happy for as long as possible!
Which Of Our Delicious Dishes Will You Try Next?
After reading this article, we guarantee that you're ready to try our delectable, divine dishes, whether you want to have a go at cooking your own creamy carbonara or heading over to our Italian restaurants in Milton Keynes to try our own authentic Italian carbonara for yourself! If you don't fancy leaving the comfort of your own home yet still are craving our classic carbonara, order with our takeaway in Newport Pagnell and enjoy a night of flavour, creaminess and warm goodness!
For some extra help, recipes and inspiration, take a look at our blog page or contact us to book a table at our restaurant!
Can't Wait To Book a Table?
Submit your enquiry here, and we'll contact you!