Bruschetta is a classic Italian appetizer that is perfect for any occasion – especially when you want to spend less time in the kitchen and more time with your guests. Originally created as a way of salvaging bread that was going stale, bruschetta has, over the years, developed into one of Italy's most loved antipasto dishes – it's a great way to use up ripe summer tomatoes, is always a crowd-pleaser, and there are many different variations that can be made just how you like them!
The traditional version of this classic snack (created using toasted bread, tomatoes, olive oil and basil), which we all adore, is just one of the many fantastic recipes out there. If you're feeling daring, why not stray away from the distinctive taste and try one of these mouth-watering bruschetta toppings instead?
Bruschetta toppings you can make at home
If you're familiar with the traditional bite, why not add a little twist? Italian or not, you'll be sure to love it. We have put together some of our favourite bruschetta toppings, so if you can't make it down to one of our restaurants in Milton Keynes, we highly recommend giving one of the following a go yourself! These are just a few of the many different bruschetta recipes that you can find online. With a little creativity, you can easily come up with your own delicious variations!
Hungry for more?
Join our mailing list for exclusive discounts, new recipes and inspiration and much more!
Our Top Tips For Making Bruschetta
Bruschetta is a delicious and versatile snack that can be made with various ingredients. It is perfect for a party or a light meal but will always taste best when executed properly. So, before we get into it, here are our general top tips when making any kind of bruschetta:
Your bread is the foundation of bruschetta, so it is important you use a good quality, fresh bread that will be bursting with flavour – you can pick yourself up a gorgeous fresh loaf from The Cottage Bakery in Bedford.
Make sure you toast your bread! Toasting the bread brings out its flavour and makes it deliciously golden and crisp – this is an essential step if you desire the authentic Italian experience.
Use fresh, ripe ingredients. To make sure the toppings for your bruschetta are as fresh and flavorful as possible, try to avoid using canned or processed ingredients, and instead, why not head down to the Stony Stratford Farmers Market and get yourself some fresh produce?
Salt and pepper are essential for bringing out the flavour of your chosen topping, regardless of what it is, so make sure not to forget these vital ingredients when seasoning.
Drizzle your slices with olive oil. Olive oil adds richness and flavour to your bruschetta.
Bruschetta is best served fresh, so for maximum flavour, serve it immediately.
Don't be afraid to experiment with different toppings; there are endless possibilities!
If you need to make your bruschetta ahead of time, prepare the topping and store it in an airtight container in the fridge for up to 24 hours. When you're ready to serve, toast the bread slices and spread on your topping.
View this post on Instagram
Classic bruschetta recipe
Before we begin exploring the various bruschetta adaptations, it is only right that we start with the classic! Bruschetta is a simple dish, one of the most popular starters in our restaurants in Daventry and Milton Keynes, but it can be very versatile. To make your own, you can choose to use any hearty bread, such as a baguette or a country loaf, and the garlic can be rubbed into it before or after it is toasted. Any good-quality olive oil and salt will work great, but a coarse salt, such as kosher, is often used.
To make yourself some traditional bruschetta slices, start by toasting your bread on both sides until golden brown and crispy. Once you are happy with your bread, rub in your minced garlic before adding a pinch of salt and pepper and a drizzle of olive oil. Top with chopped tomato and basil to finish, and savour the flavours of your homemade creation!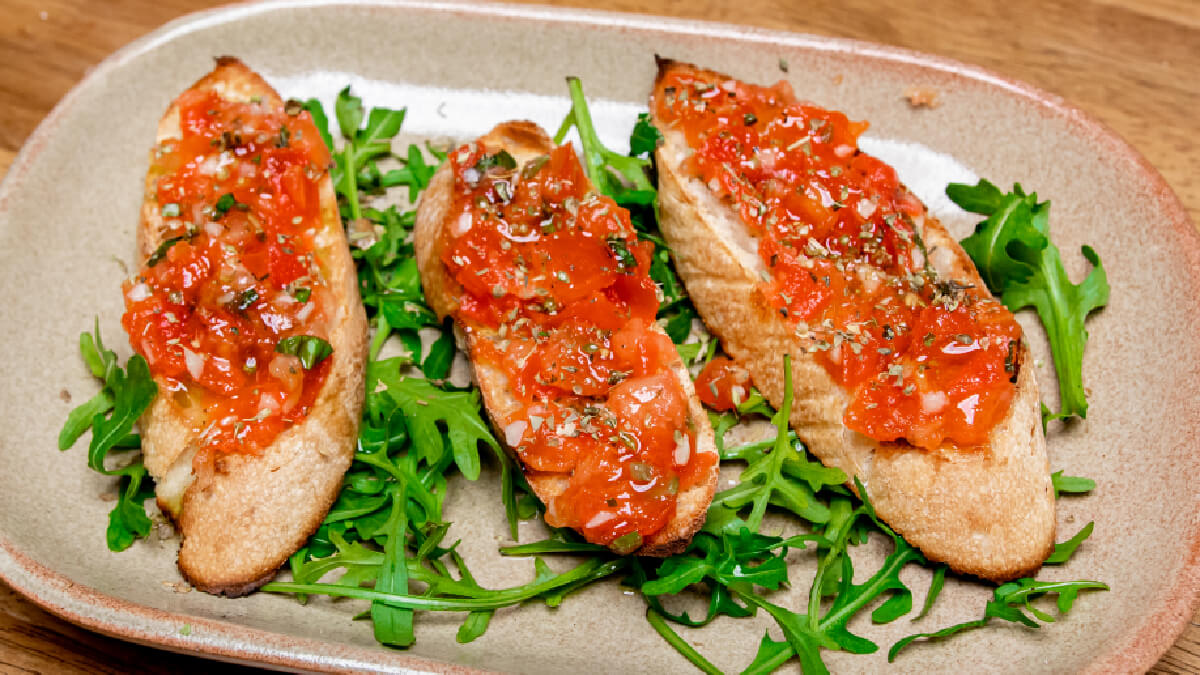 Bruschetta toppings vegetarian
Did you know how easy it is to make a vegetarian bruschetta? Vegetarian bruschetta toppings are a delicious and easy way to add both flavour and nutrients to your favourite appetizer. There are so many different ingredients to choose from, so you can create a unique and flavorful bruschetta that is perfect for your taste; the possibilities are endless!
One of our favourites, and a refreshing and light option, perfect for the summer, involves simply mashing some avocado and mixing it with a bit of chopped cucumber, a drizzle of olive oil and a pinch of salt and pepper in a medium bowl.
We know that raw vegetables aren't something many people tend to get excited about; however, when roasted with olive oil, salt and pepper, golden, caramelized vegetables can be hard to resist! Bell peppers, onions or mushrooms are always a great flavorful addition to bruschetta – high in vitamins, this healthy option goes hand in hand with some garlic rub, resulting in an array of favours sure to make your mouth water.
To roast your vegetables, simply cut them into strips or chunks and season them with olive oil, salt, and pepper. Roast in a preheated oven at 200 degrees celsius for 20-25 minutes, or until tender. Once you've roasted your vegetables, pile them onto your bread and drizzle with olive oil and balsamic vinegar. Season with salt and pepper to finish, serve immediately and enjoy!
Bruschetta meat toppings
Meat bruschetta toppings are a delicious and easy way to add flavour and texture to your favourite appetizer. Many different types of meat can be used for bruschetta, so you can easily find a topping that suits your taste – some popular choices include prosciutto, salami, bacon, and sausage. We have collected some of our favourite recipes for you to try today, but firstly, when choosing your meat, there are a couple of things to consider:
Choose a meat that is thinly sliced. This will help it to cook evenly and prevent it from becoming tough.
Choose a meat that is flavorful. This will help to enhance the taste of the meat against the other distinctive flavours of bruschetta.
Choose a meat that is compatible with the other ingredients in your bruschetta. For example, if you are using tomatoes, you might want to choose cured meat, such as prosciutto.
You can then add other ingredients, such as cheese, vegetables, or herbs, to create your own unique flavour combination. For example, you could top your bruschetta with prosciutto, mozzarella cheese, and basil for a classic Italian flavour. Garnish with some balsamic vinegar, salt and pepper and place back in the oven, just until the cheese is melted – it is as simple as that!
Alternatively, you could try something different, like bacon, avocado, and tomatoes, for more of a modern twist. To make this delicious topping, all you have to do is combine bacon, avocado, tomatoes, lime juice, salt, and pepper in a medium bowl and serve immediately on your already-toasted slices. The topping on these open-faced sandwiches from Inspired Taste would make a fantastic bruschetta topping – we think these look amazing!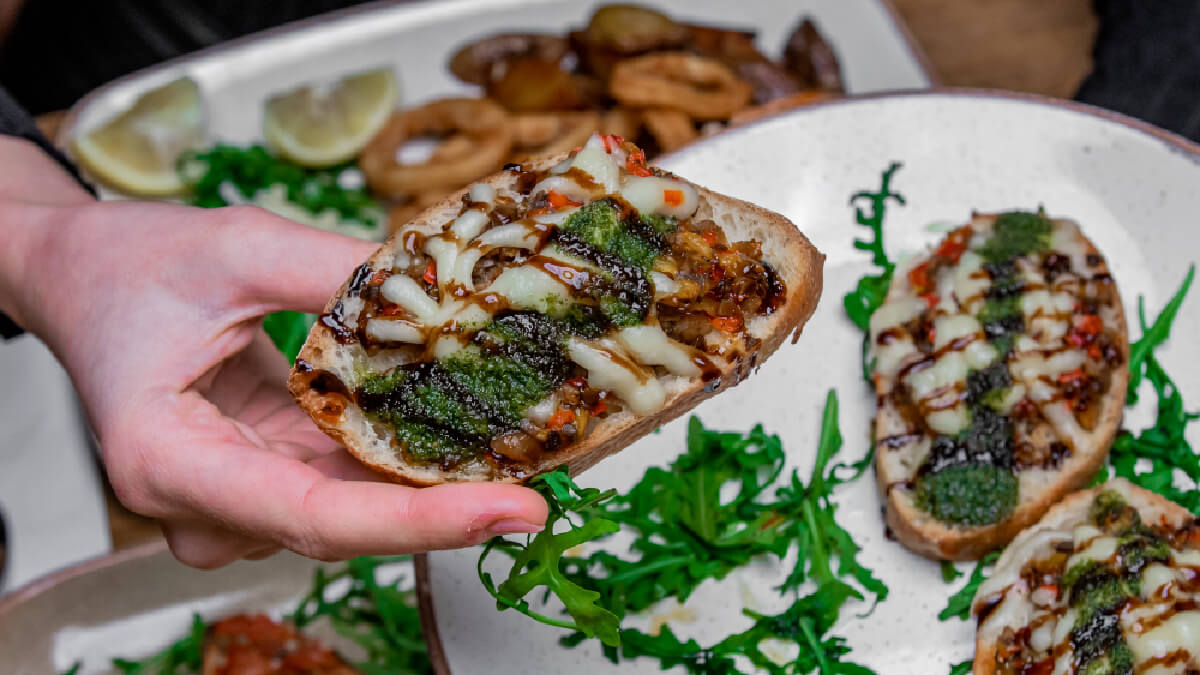 Vegan Bruschetta toppings
We know a meaty option is not for everyone, but have no fear; if you are vegan, there are still plenty of delicious bruschetta recipes that you can enjoy. Vegan bruschetta is a delicious and easy appetizer made with simple ingredients that can be easily found at any supermarket. The best part is that it is entirely vegan, so everyone can enjoy it! If you would like more Italian vegan recipes, check out this amazing article, 65 vegan Italian recipes, from the Plant Based School!
One popular vegan bruschetta recipe is made with roasted red peppers, artichoke hearts, and sun-dried tomatoes. To make this delicious varient, simply roast red peppers in the oven until they are soft and blistered. Then chop them up and combine them with artichoke hearts, sun-dried tomatoes, olive oil, and balsamic vinegar. Spread the mixture on toasted bread and enjoy!
Another irresistible topping can be made with mushrooms, spinach, and garlic. If this sounds good to you, all you have to do is sauté mushrooms and spinach in olive oil until they are soft. After this, add garlic and cook for an additional minute. Dish up your topping and let your taste buds enjoy the deliciousness!
View this post on Instagram
Want to try some new toppings for bruschetta?
No matter what topping you choose, bruschetta is timeless and will surely be a hit with your guests. It is easy to make, can be customised to your taste, and is perfect for any occasion. So next time you are looking for a delicious and easy appetiser, be sure to give this versatile snack a try – or if you're feeling extra adventurous, check out this article on how to make an Italian antipasto board!
If you want to enjoy some delicious Italian bruschetta from the comfort of your own home but don't have the time to cook, our authentic, family-run takeaway in Milton Keynes is the perfect solution. We offer a wide variety of classic Italian dishes, all made with fresh, high-quality, locally sourced ingredients and cooked with love. Our menus also include a variety of gluten-free and vegan options so that everyone can enjoy our flavour-packed food. Order online or call us today to place your order or book a table!
Cant wait to book a table?
Feel free to submit your information below, and we'll be in touch as soon as possible!